A lads' night out for one Cheshire teenager ended with a cup of tea and an episode of 'Take-me-out' with a cab driver after he fell asleep in the back of taxi.
Mike Allison took a snooze in the back of a cab he'd caught after partying in Deansgate Lock, a popular Manchester drinking spot. Although Allison was with a group of friends, not one of them, nor the taxi driver, noticed he had failed to get out following the 30 mile journey back to Northwich, Cheshire.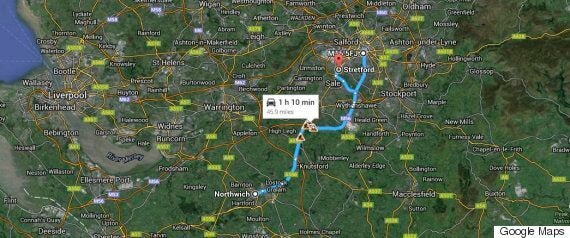 The route the taxi took from Deansgate to Northwich, and back to Stretford.
The taxi driver, Ujal Singh, 39, says he unwittingly turned around with 18-year-old Allison asleep in the back, and headed for home in Stretford with his music at full blast.
Allison woke up and found himself in the empty taxi with the driver walking away having just parked. Not being able to pay the £50 fare back home, Singh invited him whilst he sought alternative transport.
Allison tweeted a photo of the bizarre event with the caption: "Fell asleep in the taxi and none woke me up. Now I'm back at the taxi man's house in Stretford watching take me out."
Singh, who was only alerted to his new-found Twitter fame by a friend, said of the evening: "I think he was quite scared when he realised he was lost so of course I invited him in for a brew, it was minus one. I'd do that for anybody - he was only a young lad."
After offering him some food, which Allison declined, Singh brewed some tea and switched on the TV.
"There was nothing else on at 5am in the morning so I put an episode of Take Me Out on I'd recorded while I was at work. It's a top programme, I'm glued to it."
At 5.30am Allison left after being picked up by friends. He added: "I'd like to say thank you to Ujal again because he was so kind and generous considering the circumstances.
"This whole thing has been a bit weird - I tweeted one thing and it's gone everywhere. I'll definitely never fall asleep in a taxi again but I should probably get better mates as well who will wake me up."
Popular in the Community