Watch the band and fans in action in our intimate video above.
The idea behind the event was to buck a growing industry trend. In recent times, artists have taken to launching albums completely by surprise (Bjork, Beyonce, Bowie, Aphex Twin). The Unthanks felt that they should be savouring the release of their album, bringing things back to the way they used to be - the queuing, the waiting, the anticipation – and then listening to the whole record from start to finish, instead of using it as merely background music. So this is exactly what the band did.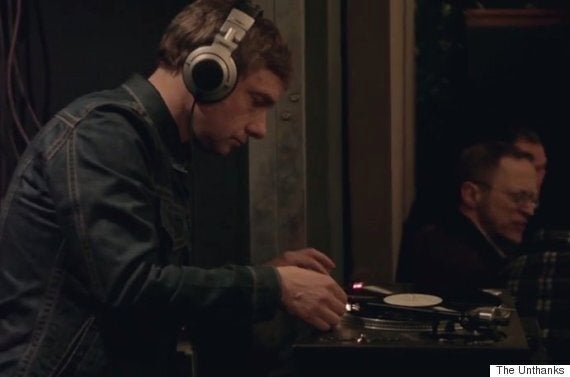 Martin Freeman happy at the decks of The Unthanks' album launch
In a darkened room in east London, they invited a raft of guests to come and listen to their album on vinyl, from start to end. Adrian McNally, multi-instrumentalist, arranger and husband of singer Rachel Unthank, said; "We're going to just stick a spotlight on a turntable in the middle of the room and hope that people will close their eyes and enjoy.
"We want to make an event out of releasing a record that has taken two years to make, rekindling and celebrating the virtues of the album as a valid art form."
Reviews of the album have been uniformly excellent, with Robin Denselow in the Guardian calling it "a lush, exquisite set", and the Daily Telegraph giving it a five-star review, with critic Helen Brown referencing the "slow, swirling affair that mixes original material with traditional tales. Underpinned by McNally's cool, fluid piano it's simultaneously ancient and fresh".