In the chaos of everyday life, most couples don't focus on what drew them together and the special moments that led to the realisation that they'd fallen in love.
Instead, it's easier to get wrapped up in the drama of the moment, carried away by worries about the future or overwhelmed by thoughts that maybe the person you're with isn't the right person for you.
When did you last tell your partner you loved them? Or reminisced about your early dates and the butterflies you got in your stomach? Returning to the simplicity that drew you together in the beginning of your blossoming romance can help lend some perspective to any present-day conflicts and remind you of who you initially fell in love with - and why.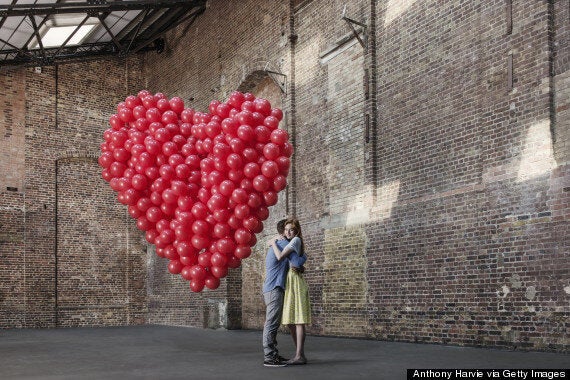 "A friend of mine recently joked that premarital therapy should simply consist of the couple eating apples in a silent room, and that if they don't kill each other after 10 minutes, then marital bliss awaits," says Stefan Walters, a psychological therapist at Harley Therapy, who specialises in couples counselling and family therapy.
"The point he was making is that we all have little idiosyncratic foibles and quirks, and it can be these little mundane things - like the way we eat an apple - that can end up driving our partners crazy."
So not only is it important to reveal your true self to your partner to establish the strongest emotional connection you can, it's also key to keep those simple, giddy pleasures alive and relive your favourite memories of life as a couple.
And maybe tonight, ask your partner when they first fell head over heels for you.
We asked people in relationships to pinpoint the moment that made them realise it was love...
What was the moment that made you realise it was love?
M: We were both caregivers to ailing relatives at a relatively young age. We had something in common few people can (and should ever have to) relate to. We bonded and this added something enduring to our chemistry and attraction. The next date, it felt like we had started something we both wanted to continue forever.
W: When he laughed when I said my favourite brand was Nasty Gal.
M: I bought my wife something when we first started dating and she wore it when I visited some months later (we lived in different countries). She said she wanted to let me know she appreciated it. I thought that was very thoughtful.
W: I don't think there was just one moment that made me realise it was love. It was a series of long, charming conversations consisting of serious discussions, funny jokes, and witty comebacks with a man with incredible morals.
There was one moment, though, a few months after we started dating, when I thought, if he doesn't propose to me I will propose to him myself. I can't remember what we were talking about but I knew then that I wanted to spend my life with him and felt very glad that I had finally met him.
M: When I realised she was the answer to all my questions. I'm not glorifying her but there was this moment when despite all my fears there were just no more hesitations to have. I reached this moment quite quickly after the beginning of our relationship.
W: I don't know. There was not a moment I realised - it dawned gradually. But I know the moment I realised that he really loved me. That was good.
M: During a family crisis, when she was the only person I wanted to talk to even though she was in another country.
W: I suddenly realised that I just wanted to be around him all the time and just thinking of him made me feel giddy inside.
M: Ours was a slow burner with a long-term friendship developing into a relationship, then into love. I just remember what a great time we had together once we got together.
W: When he started showing up in my dreams, every night, before we became a couple (we were friends first). I always felt a strong connection to him and loved him long before it was appropriate to but when I started dreaming about him, I realised I needed to pursue this because I didn't want to spend another moment without him.
M: It wasn't so much a moment as a realisation that spending time with her was effortless. She is the most beautiful and kind person I have ever met and yet she is so disarming that I was not nervous in her company. We would laugh together and would never struggle for conversation. She somehow gave me the confidence to accept that such a wonderful person loved me and she has never made me doubt her feelings for me. If it were to be defined in a moment, it would be the moment that my life changed so that every decision I made would have to have her interests at heart; from where we live, to what flavour ice cream I order - unless she wants strawberry.
W: When I dragged him around every sample sale London had to offer and he didn't complain once because he knew how happy it made me. He took me to vegetarian restaurants and to the opening day of the Sex and the City movie. He paid for a cab so I could wear my Manolo Blahniks, bought me a Cosmopolitan and was the only straight man in the theatre. This was a near-perfect date until he uncontrollably laughed out loud for probably seven minutes at the part where they reminded each other that they were all soulmates. People were pissed and so was I.
On our first date, he bought me some dishwasher freshener after hearing me whinge about the way mine was recently smelling. He was aware this was not the most romantic of gifts but I liked how he displayed good listening and problem solving skills and I knew instantly that I could put this guy to good use.
Above everything, I had more fun with him than anyone I had ever met. He grew from a friend, to a great friend, to a really great boyfriend and now the best husband I could have ever wished for.
M: When we first got together and I realised she was irreplaceable.
W: For me it was the beginning, when we first met. I know that is clichéd and annoying, but I just knew he was my person.