Rob Ronaldson has done something many would never even dream possible - he's forged a career out of combining music with algorithms and tracking, after being inspired by an article on frequency trading.
Not your everyday combination.
After getting a Politics degree from the University of Leeds, the 24-year-old's love of music led him down a path that would see him work for a Grammy nominated artist in New York.
On returning to England, his career didn't stop. Following a stint at Dyson, as a Communications Executive, he started his own business, The White List, which uses algorithmic tracking to identify trending music.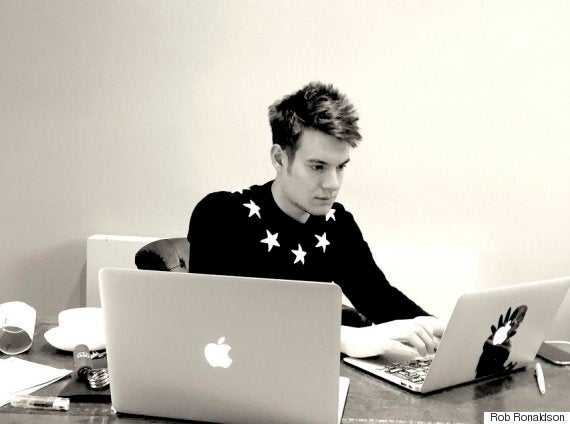 Rob, of The White List, coding for the website
HuffPost UK caught up with Rob for a chat on his interesting and diverse career, and to learn more about The White List.
Having studied politics at uni, what pushed you initially towards music?
Music has always been a passion of mine well before I went to University. It wasn't until a friend of mine lent me a copy of his music making software that I actually started to consider that there might be a place in the industry for me.
After finishing your degree what did you do?
By the time I had finished University I realised that I wanted to work in music, but didn't really know how to get into the industry. I spent a lot of time understanding where my skill set was valuable. I was introduced to Ryan Leslie's internship programme, and with the help of a few fortuitous events I found myself making videos, tour managing a 40 city world tour and heading the administrative side for two of his rap albums.
Why did you decide to stop working with Ryan Leslie and go start your own business?
Working with Ryan was a fantastic opportunity but I wanted to return to England. I learned a lot from Ryan about the industry, especially innovative ways to build your profile as an artist online. He's pretty innovative in that area and that's certainly stuck with me. After I left Ryan, I briefly worked at Dyson. It's a hot bed for invention and the James Dyson story was enough to push me towards trying things on my own.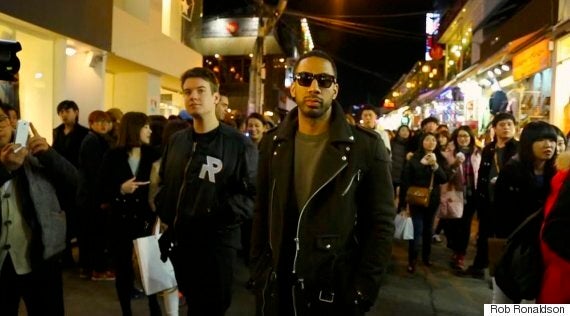 Rob standing alongside Grammy nominated artist Ryan Leslie.
When did you first come up with the idea of The White List?
It first came about from reading an article on frequency trading. I read that a guy was able to identify big trades before they were going to happen. I thought this could work for tracking investors. I started tracking only a small handful of investors on a spreadsheet and found that some pretty cool startups were being identified. I later built a script to automate this on a larger scale and later built a site to publish the results.
What works so well for music is things have become so saturated. When you read blogs you're relying on the opinion, taste, and preference of the journalist. When you use other discovery platforms you have to filter through millions of songs. The strength of the Whitelist is our technology, we're able to track every influencer in music and see what's trending cross platform in that community. We try to remove that blog-style bias and just find the best content trending online.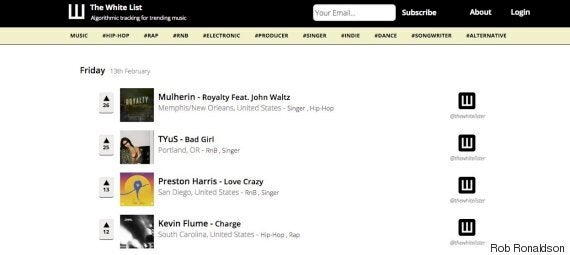 Do you have any success stories about the artists discovered on The White List?
We've identified hits on several occasions a couple months before they explode. Anecdotally
we've had Bobby Shmurda, OG Maco and OT Genesis to name a few. The site is constantly publishing new music where artists only have a few hundred followers. If you check back on them after a couple of month they tend to have a lot more!
How has your background helped you achieve as much as you have already?
Before I went into the music industry I only thought about the music, I didn't think about the artists and how they break into the mainstream. Working with Ryan helped me understand those mechanics and how you connect with fans.
What made you combine your love of music with The White List's original carnation (tracking startup investors) to create what it is now?
Artists are a lot like entrepreneurs; they start with an idea, and have the vision and drive to create something tangible, that made it a natural progression to go from startups to music.
Can you explain to us the name 'The White List'?
A White List is just the opposite of a black list, we wanted the name to reflect the fact that we were selecting the very best up and coming artists. We're really focused on building our community and making the discovery process for new artists as good as possible. I'm always making tweaks to the Whitelist algorithm so, in time, I hope it can become incredibly efficient at finding new music.
Finally, what you say to young, aspiring entrepreneurs like yourself, who have business ideas, but don't know how to take the initial step?
Find something you're passionate about and stick with it, opportunities will present themselves if you're doing something you love.
Related