Last year's winner Darren Walsh was knocked out early by the competition's victor Leo Kearse, who refers to himself as a "Kearse on humanity" in the pun arena.
The festival claims to be the longest running in Europe, so this gong will be a huge honour for the Scottish funnyman.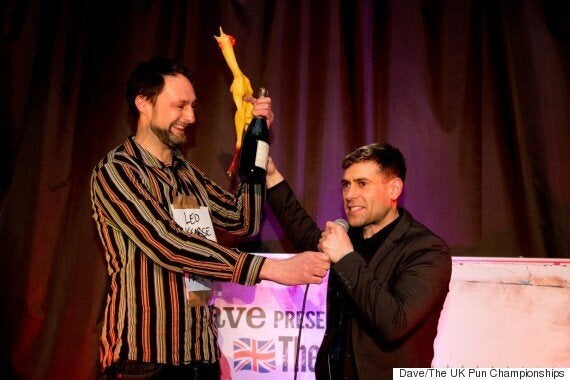 Kearse takes the rubber chicken after being voted winner by the audience
Here's a selection of the most cracking puns from the contest:
I was at hospital last week. I asked the nurse if I could do my own stitches, she said "suture self."
Marvin Gaye kept a sheep in my vineyard. He'd herd it through the grapevine.
I used to have a job drilling holes for water. It was well boring.
My credit card company sent me a camouflaged bull. It's the hidden charges you have to watch out for.
Today I went in the barber's shop and asked if they had any 'hair paint'- I've got a never say dye attitude.
Richard III was so named because he didn't do very well at University, unlike his brother Desmond Tutu.
Last night I saw a man at the bar chatting up a woman whilst covered in mashed up fruit, I thought "He's a smoothie".
I've invented a porridge for Spanish horses, it's called "Donkey Oatey".
Just having a vote on whether Picasso was the best portrait artist of all time... So, eyes to the right, nose to the left.
Before he died my Dad used to drive a JCB. At his funeral his colleagues said that now he's gone he's left behind a hole that will never be filled.
My kids can't access videos of twerking on our home PC: we've got Norton Anti-Cyrus.
Sometimes late at night, my wife likes to throw clay at me: she's play-do-masochistic.
Advert said "Comedian wanted! Punsters in short supply!". So I wore a pair of Bermudas and got the job.
Did a gig for The Conservative Party. Toff crowd.
It wasn't much fun having a broken neck, but now I can look back and laugh.
I only ever sleep with one type of wood. I'm a Mahoganist.
I got my girlfriend some slinky underwear and now she keeps falling down the stairs.
What new iPhone game has come out for people who really, really fancy a former Indian leader? Ghandi Crush Saga.
An ex girlfriend claims to have dated Morrissey. She dumped him and sold her story to the Exeter Evening News. Devon knows he's miserable now.
My friend juggles books and PG Tips on stage. He's a novel-tea act.
Be sure to follow the comedians for some regular punnery:
Related