Today it's Chinese New Year, and our Feasts on the Street challenge will see our 3 teams of amateur chefs compete at one of London's biggest food markets in a bid to become street food entrepreneurs. Watch the episode next week to see who walks away with that foodie trip of a lifetime to Hong Kong.
And you can be a Chinese New Year culinary star yourself with this nutritious, delicious, Singapore Chicken Noodle recipe from Amoy.
Despite the name, Singapore noodles were originally introduced by Fujianese sailors to Singapore and South East Asia during the Ming Dynasty, and the recipe centres around "mee-fun," thin vermicelli rice noodles.
This flavourful dish gets a protein boost from lean chicken and plenty of colour thanks to mangetout and red peppers, as well as a couple of dashes of Amoy Dark Soy Sauce, which helps to bring out the sweetness and richness of your cooking and deepens the colour of the dish.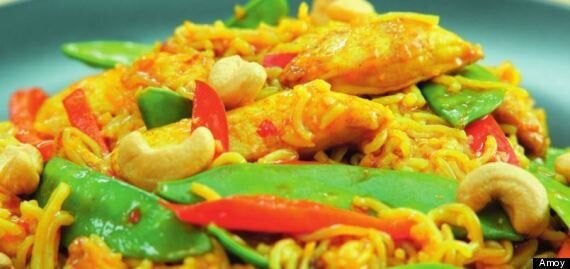 Soy sauce originated in China in the 2nd century before spreading throughout the rest of Asia. The main difference between Chinese soy sauce and Japanese soy sauce is that in addition to soy beans, salt and water, wheat is added to Japanese soy sauce.
Dark soy sauce is a must for meat dishes and marinades, and is also a tasty way to get an unexpected health kick: according to a study at the National University of Singapore, dark soy sauce can contain 10 times more antioxidant levels than red wine. Soybeans are also high in fibre, protein and essential amino acids.
Singapore Chicken Noodles
Preparation Time: 5 minutes
Spice mix for the chicken
400g chicken breast, skin removed, sliced into 1cm strips
¼ teaspoon dried chilli flakes
¼ teaspoon ground coriander
1 teaspoon of Amoy Dark Soy Sauce
2 tablespoons sunflower oil
1 inch piece of fresh root ginger, grated
2 cloves garlic, crushed, peeled and finely chopped
1 tablespoon rice wine or vegetable stock
1 medium red pepper, deseeded and thinly sliced
150g mange tout, washed, drained, whole
1 pack Amoy Sweet Thai Chilli Stir Fry Sauce
2 x 150g packs of Amoy Singapore Curry Noodles
1 tablespoon of Amoy Dark Soy Sauce
50g roasted salted cashew nuts
1. Prepare the vegetables.
2. Make the spice rub for the chicken breast. Using your
fingers, work the spice mix into the chicken and leave
3. Heat a wok over high heat and add the sunflower oil, giving
it a swirl to coat the sides of the wok (or pan). Add the spiced
chicken slices and stir fry for a few seconds to release their
aroma and flavour into the oil (letting it settle in the wok for
a few seconds before flipping the meat and tossing it so it
colours and caramelises at the edges). As the chicken starts
to brown, add the rice wine or vegetable stock. Season the
chicken with 1 teaspoon of Amoy Dark Soy Sauce to enrich
the colour. Quickly follow with the red pepper and mange
tout and toss, cooking for 1 minute. Add the Amoy Sweet
Thai Chilli Stir Fry Sauce and Amoy Singapore Curry Noodles
and toss well together, cooking for another minute until all the
ingredients are coated well in the sauce. Remove from the
heat and season with 1 more tablespoon of Amoy Dark Soy
Sauce. Add the roasted salted cashew nuts.
4. To serve, ladle and divide the noodles onto two serving
plates, and eat immediately.
Don't miss Ching-He Huang's easy video on how to prepare this delicious dinner dish. If you want to add a zesty finish, she suggests squeezing half a lime over each portion.