5 Seconds Of Summer were named Worst Band at Wednesday night's NME Awards, because obviously it's impossible to have fun without a few laughs at someone else.
*raises eyebrows*
However, the joke's on NME, because 5SOS actually wanted to really win this award. Yes, they really did.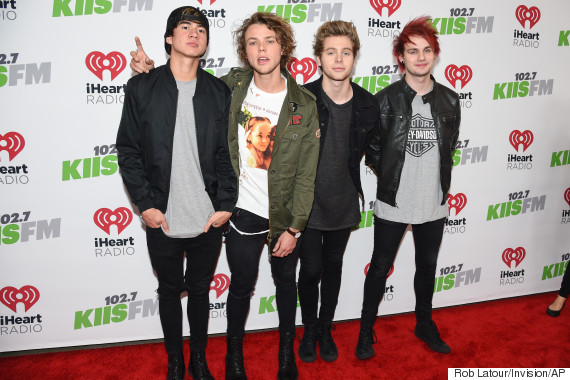 Winners!
Back when the award nominations were announced in December 2014, the band's Michael Clifford tweeted, urging fans to vote in the mag's online poll.
HOLY SHIT WE GOT NOMINATED FOR WORST BAND AT THE NME AWARDS. pls pls pls vote. I'm not even being sarcastic it would be so incredible to win

— Michael Clifford (@Michael5SOS) December 17, 2014
And when he got his wish…
Won the NME worst band award. I'm so damn happy right now. thx to everyone who voted 😍😍 #dreamscomingtrue

— Michael Clifford (@Michael5SOS) February 19, 2015
Clearly seeing the funny side, 5SOS fans voted in their droves, and can now be found celebrating the win on Twitter.
5sos won 'Worst Band' at the NME Awards I'm so proud

— Tayla (@CALUMHOODX5SOS) February 18, 2015
5 Seconds of Summer have been crowned as the 'Worst Band' at the @NME Awards! Congrats 5SOS we love you #5SOSFact

— 5SOS FACTS (@5SOSFacts) February 19, 2015
BY THE WAY, us fans were the ones that voted 5SOS as Worst Band. We won them that NME based on Michael's requests 💁

— Worst Band Updates (@_5SOSFAMUPDATES) February 18, 2015
Previous winners of the award include chart-toppers The 1975 and One Direction, who've sold millions of albums worldwide, won four Brit Awards, 11 MTV EMAs and 19 Teen Choice awards. We reckon 5SOS will be just fine.
LIKE US ON FACEBOOK | FOLLOW US ON TWITTER