One of 'Downton Abbey's great strength is the mix and interaction of its characters, people from two very different worlds all living together under one roof. But who is the REAL heart and soul of this story? From the many individuals to cross its threshold, we've assembled a shortlist and made a case for each. See what you think and VOTE FOR YOUR FAVOURITE BELOW...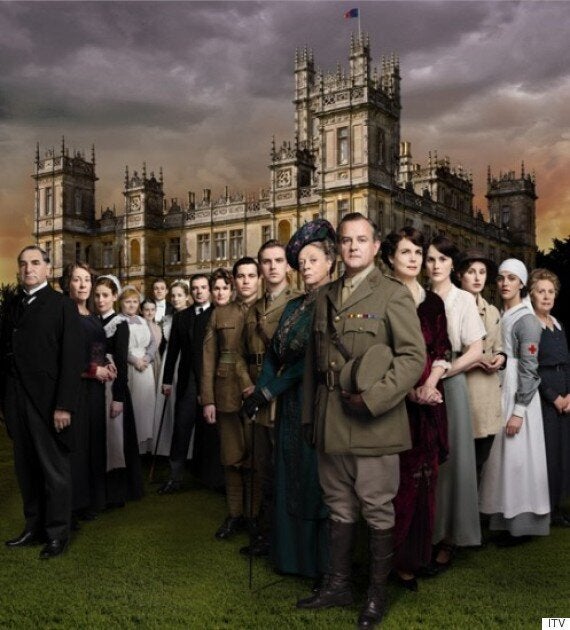 The lives and loves of the Downton Abbey residents have entranced viewers since 2010
Edith, the often overshadowed middle sister has had, arguably, the most dramatic storyline of all her privileged family. For a while, it looked as though she would become a bitter bystander to goings-on, once her own wedding plans ended in the humiliation of being stood up at the alter by her betrothed. But Edith (Laura Carmichael) bounced back, becoming first a journalist when such an occupation for a woman was frowned upon in parts, and then conducting a passionate affair with her married boss. And that was all before she found herself a single mother with her child secretly stowed with a neighbour's family. Can any other Downton resident boast such a catalogue of intrigue, and represent a woman struggling against the constrictions of her era, and ultimately doing things very much her own way. Bravo!
Thomas was initially little more than a cipher for the machinations of the malicious lady's maid O'Brien, but soon came into his own, and nursed his own secret life that, like Edith, threatened to crumple under the restrictions of the age. This duality, along with his wartime experience, has made for a complex character who likes to control those around him, but also shows flashes of gratitude and loyalty to others along the way. Why does he insist on letting his Machiavellian side take over? The actor who plays him, Rob James-Collier, will defend him to the last. "He's just bored," he insists. "Wouldn't you be?"
Here's the patriarch of the clan, devoted to his family and wanting the best for them, but also stifled almost to parody by a yearning for the simple social rules of yesteryear. Through Robert (Hugh Bonneville)'s struggles, we see the waves of change come crashing into Downton and, through his dilemmas and solutions, we feel hope that the best aspects of the family's life will continue.
What is a woman to do, widowed at a young, glamorous age? We watched Lady Mary (Michelle Dockery) gradually warm to cousin Matthew until he became her great love, and then we wept with her when he was taken so suddenly (and on Christmas Day at that!) Now, she faces the challenge of working out what she really wants, as opposed to what is expected of her. The answer to this will determine her success in becoming a thoroughly modern Mary, and not just one who "goes upstairs to take off her hat".
This man started out as a chauffeur to the family, and ended up married to it. Branson (Allen Leech), more than any other character, has bridged the upstairs and downstairs world of Downton, but struggled to find his own place in between the two. Allen Leech's character, more than any other in the show, sums up the problem of uniting the classes in the post-war years. If he can work it out, we all can. Or perhaps he'll just have to run away and start again, proving there is no easy union of the two, nor will ever be.
Despite her lowly position of lady's maid, Anna (Joanne Froggatt) is confidante to all the goings-on upstairs, but her personal drama has dwarfed many of those. Gently courted by Mr Bates, she remained by him as he stood accused of murder, before she was the central figure in one of Downton's most controversial storylines - her rape by a visiting servant. His following death has once again placed Anna at the centre of the show's most dramatic plot, with a performance earning actress Joanne Froggatt a Golden Globe.
Loyal beyond all duty, Mr Carson (Jim Carter) is the point of all reference at Downton. Upstairs, he is the mentor of Lady Mary and the conscience of Lord Grantham, downstairs the calmer of all chaos. Nothing bad happens that Mr Carson can't somehow sort out, nothing good happens unless it's endorsed by his quiet nod of approval. Make no mistake, when Mr Carson decides to stop holding the house up with his loyal hands, the whole edifice will indeed start to crumble.
Her role of tut-tutting matriarch would seem impossibly old-fashioned and insignificant, but for two things. She's played by the indomitable Dame Maggie Smith, and writer Julian Fellowes unashamedly gives her all the best lines. Just as nothing good or bad can happen without Carson intervening, neither can it without the Countess to observe pithily, reflect that she's really seen it all before (except weekends, apparently - "what's a weekend?) and sign the whole thing off with a resplendent bon mot. A timeless class act.
So, now a good case has been made for each, we feel, VOTE for who you think is the central backbone of Downton Abbey in our poll below…