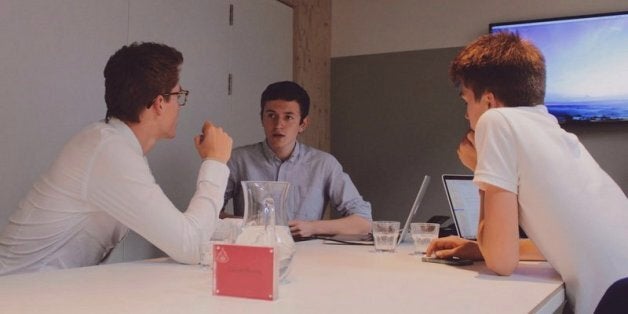 Ever had a bad experience in a coffee shop?
Maybe the atmosphere was comparable to a funeral procession, or perhaps you were served a lukewarm black coffee, instead of the "Venti iced skinny hazelnut Macchiato, sugar-free syrup, extra shot, light ice, no whip" you meticulously ordered over a noisy counter.
For James Anderson, George Streten and Alex Waterhouse, our Young Entrepreneurs of the Week, these kind of bad experiences are exactly what they want to eliminate.
In order to do so, they have set up Space Lounges, the "Next-Generation Coffee Lounge".
How did you first come up with the Space Lounges idea?
James: For the past three years or so, I've been working out of coffee shops. I only did this because all my friends were too. It wasn't until recently that I started getting really frustrated about the service and environment. Having a background in web and app development, where I started building websites at the age of seven and apps at the age of thirteen, I began to question why these frustrations could not be solved with technology.
Space Lounges is the next-generation coffee lounge that is on a mission to bring fun back to the high-street, with a beautiful and intelligent smartphone app where you are able to order on demand, discover exciting new products, receive invites to sensational live events and enjoy the finest customer service. Space Lounges is more than a coffee lounge; it's a lifestyle.
You say you have been in contact with numerous high-profile people, including Stephen Fry. Which of these supporters has given you the best advice, and what was it?
James: Stephen once sent me this message via email which was certainly one of the best pieces of advice I have ever personally received:
"It has been an honour to watch Thinkspace move from becoming a dream to a local success to an explosion with global potential. I hope in all this you three manage to keep your eyes on the prologue, which isn't money or fame, but inspiring people and creating things that are, as they said of the first Apple Mac, 'insanely great'."
James, you started up Thinkspace, a space in schools for education in coding. Was there much crossover in terms of skills between the that project and the Space Lounges one?
James: Certainly! The skills learnt from having launched Thinkspace have come into almost every aspect of Space Lounges, whether that's developing the website, designing the app or managing a team of people. I'm not so sure we would be where we are today if it wasn't for Thinkspace.
Given that George and I learnt how to code from a very young age (around 7 years old), we've had a massive head-start in comparison to the majority of young people. We are now working on a project so big that it would usually take a team of perhaps 10 or more engineers, designers and executives — fortunately we've managed to stay ahead of the game whilst keeping our team small but super productive.
You entered the digital development world at a very early age, then, George. Do you think there are any advantages to being such a youthful entrepreneur, or have you simply had to overcome various disadvantages?
George: Working on something such as Space Lounges at a younger age comes with both advantages and disadvantages. It has a major effect on people's perception of you especially. Different people deal with our youth in different ways: some see it as being unique and fairly amazing that we have the motivation to be working off our own backs, others see us as being 'children' with no experience. The latter is something that we have to work especially hard to overcome, but ultimately producing something fantastic which mismatches their expectation really does boost your confidence.
Something that I, especially, am having to work especially hard to overcome is the fact that I am still in compulsory full-time education. Apart from over school half-terms and weekends, I have to flexibly work around the times at which I'm learning. It sounds difficult, but you end up in a routine whereby you can effectively manage your time between education, work, and your social life.
A major advantage to our age, however, is the fact that people seem to be far more welcoming to support you. Whether it be advice, access to software, or simply your projects being better noticed by the community, entrepreneurial spirit at our age is a major factor in fast-tracking the processes which take far longer for traditionally-aged entrepreneurs.
You are part of the GB Climbing Team, Alex. Are you ever tempted to make metaphorical comparisons between that activity and the struggle for ascendancy in the commercial world?
Alex: The actual disciplines align far more than one would think. The values that lead to success are especially similar. Hard-work, determination and creativity are all highly important in both but all of it is done behind the scenes.
The only determinant people have of your success is the one climb of a competition or the unveiling of a project, and that moment is where all of the effort behind the scenes is realised, so it has to be perfect.
And do you feel that your time/energy commitments to your entrepreneurial activity has reduced your ability to enjoy other aspects of your life?
Alex: I think I get to do all the things I want really, I have business, school, my climbing, my friends and my girlfriend and I can devote enough time to each so it's all good!
I've always been short of time, always doing something every night of the week. Wasting time, however, is not an option when my schedule is packed, so reducing the idle hours browsing the internet or sleeping must be minimised if I want to do the really rewarding stuff!
Particularly interested by this week's young entrepreneurs? Visit their crowd-funding page here.
Popular in the Community