When the day of Glenn Buratti's birthday party came and not one of his 16 school friends turned up, the six-year-old was distraught.
Glenn, who suffers from epilepsy and a mild form of autism, had a bouncy castle and birthday cake awaiting him.
After his mum broke the news that his friends weren't coming, Glenn never could've imagined that his day was about to take a turn for the better.
All thanks to a handful of kind people who he'd never met.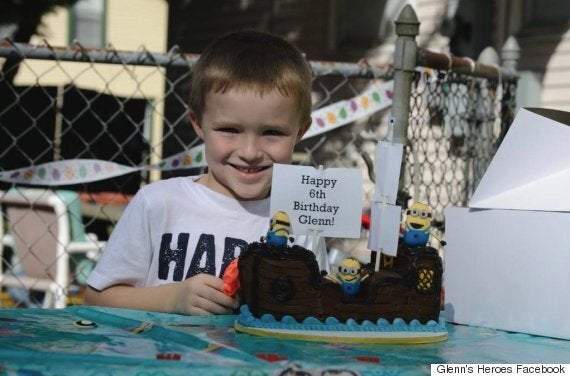 "From the minute he woke up that day he wanted to know how many minutes until his friends came," Glenn's mum, Ashlee Buratti told the Osceola News-Gazette.
"None of the kids' parents RSVP'd, but I was still holding on to the hope that some of them would show up."
After watching her heartbroken son retreat back inside to play with his sister, his furious mother took to Facebook to share her frustration on the page Osceola Rants Raves & Reviews List - a locally run page with more than 10,000 members.
What she didn't realise is that this small rant was about to change everything.
The 25-year-old wrote on the page: "I know this might be something silly to rant about, but my heart is breaking for my son. We invited his whole class (16 kids) over for his 6th birthday party today. Not one kid came."
Within moments, parents were messaging Glenn's mother offering to bring their kids over that afternoon.
Before long, 15 children and 25 adults - all complete strangers - had descended upon the Buratti household to celebrate her son's birthday.
One woman had bought Glenn a brand new bike, while another man had taken his camera along to the party and spent most of the afternoon taking photographs of the family - which he later gave to them as a gift.
And the kindness didn't stop there.
Word soon reached the police force in Osceola, Florida who asked for her address and told the family to look out for their helicopter which would fly over their home. Sure enough, there it was.
On the Wednesday after Glenn's birthday had passed, he received another special surprise after local firemen stopped by the house to wish him well.
"They said his story really touched their hearts and they wanted to do something," said Glenn's mum.
"They came together just to make him happy for his birthday. I couldn't believe it."