Next month [March 2015], artists, aficionados, curators and collectors from all over the world will gather at the third edition of the Art Basel Hong Kong art show.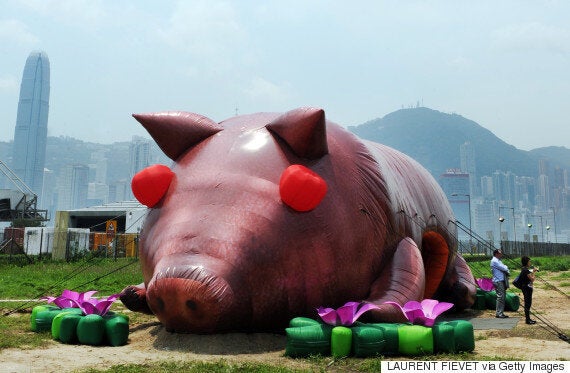 The Basel brand took over what was formerly known as Hong Kong International Art Fair in 2013. And with new Director of Asia, Malaysian born Adeline Ooi, at the helm, this year's show is expected to be their biggest and most prestigious yet.
Showcasing the best art from Asia and Asia Pacific, the event will boast 233 premier galleries from 37 countries and territories, with works ranging from the Modern period of the early 20th century to the most contemporary artists of today.
There's no doubt about it, the Asian arts scene has exploded and Chinese contemporary art is at its epicentre.
"The Chinese art market has tremendous potential for further growth with its booming economy," says gallerist Pearl Lam, who has become a globally recognised figure in the art world. "Chinese collectors are beginning to show more interest in Chinese contemporary art, whereas previously they were more focused on antiques," she tells auctioneers Christie's in an interview.
"With greater exposure to different types of contemporary Chinese art, including new media art and Chinese abstract, there is room for growth in the domestic market."
But while the Asian art world has never been more vibrant and buoyant – with art fairs and galleries popping up like mushrooms in Shanghai, Beijing, Hong Kong, Singapore and South East Asia – even some of the biggest names on the scene have not yet seeped into mainstream consciousness in the western world.
Ai Weiwei has done more for international relations than the rest of the Asian art world combined. The artist and dissident held his biggest ever UK show at Blenheim Palace in autumn 2014, taking complete control of the curation – despite being unable to leave the country – thanks to virtual 3D technology.
Meanwhile, a concurrent UK exhibition, in Manchester, was also raising consciousness of Chinese art but with a different message: there is more to Asian contemporary art than Ai Weiwei.
Part of the city's Asian art triennial, Harmonious Society was the UK's largest ever exhibition of contemporary art from China, Taiwan and Hong Kong – with more than 30 artists giving Brits a snapshot of the diversity of the Asian art scene.
But this cultural explosion, which has been growing exponentially for almost a decade, extends far beyond the fine art world and China's major cultural hubs. Some of the most exciting new names in filmmaking, literature, product design and architecture are to be found in the far reaches of South Korea, Japan, India, Indonesia and throughout South East Asia.
From feminist filmmakers and groundbreaking product designers to some of the biggest new names in sculpture, here are a few of Asia's most hopeful rising stars: