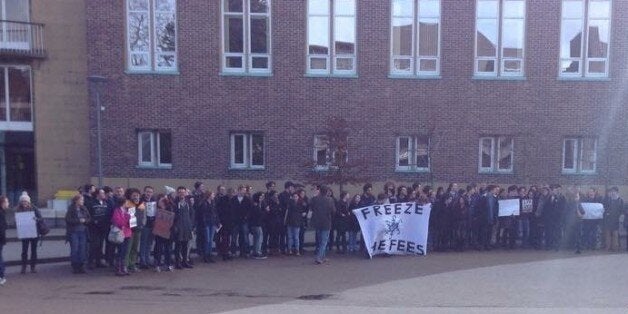 Students from Durham University protested against their university's plans to increase accommodation fees by 8%, after it was revealed living costs can be as much as £2,500 more than at nearby Newcastle.
Around 140 students from Durham Students for University Reform (DSUR) marched on the Bill Bryson Library demanding a two-year freeze on accommodation fees.
The protestors called on Durham University to "freeze the fees" after college accommodation fees were seen to have risen 20% in the past three years.
A standard room for freshers and finalists at Durham will cost £6,819 next year, increasing from £6,289 this year. Ensuite rooms are reported to cost £7,104 from next year, an increase of £600.
Co-chair of DSUR Harry Cross told Durham's student newspaper Palatinate: "We're addressing acting Vice-Chancellor Ray Hudson to let him know that we expect immediate commitments addressing the accommodation crisis in Durham that the University has created.
"Failing that, the five candidates to his succession should prepare themselves for sustained campaigning by students on issues of college accommodation costs."
Cross added university accommodation can cost as much as £2,500 more in Durham than at Newcastle University.
Students at the university have been campaigning against college fee rises that are set to increase by 8% for the 2015/16 academic year.
A breakdown of accommodation costs by Times Higher Education found the university was spending 22p on capital and 11p on borrowing for every £1 the students paid for their accommodation.
Speaking to Palatinate last month, Durham University Pro Vice-Chancellor and Deputy Warden Professor Graham Towl said the collegiate system "comes at a price" and allows students to live in "a unique environment".
The money from university accommodation helps to secure the "long term stability" of the university added Professor Towl.
The protest was supported by Durham Students' Union President Dan Slavin, who said: "I am pleased to see so many people here today. This shows that Durham students aren't apathetic."