Up to 30 mysterious new craters are feared to have opened on the landscape of a remote region of Siberia.
The puzzle began in July last year when three giant holes - one measuring 262ft in width - were discovered in the mountainous area of the far north in Yamal – a name meaning "end of the world".
Using satellite imagery, researchers have located four additional craters and there are fears there could be up to 30 more in the region.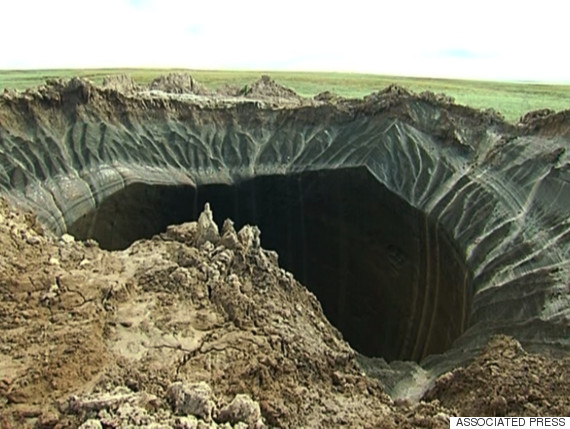 This 200ft wide crater was discovered in Yamal Peninsula in July last year
Moscow-based scientist Professor Vasily Bogoyavlensky is calling for an "urgent" investigation into the matter amid safety fears for residents and livestock living there.
He told The Siberian Times he knew definitively of seven craters in the area: "But I am sure that there are more craters on Yamal, we just need to search for them.
"I would compare this with mushrooms: when you find one mushroom, be sure there are a few more around. I suppose there could be 20 to 30 craters more."
Speculation as to what is causing the cavities has seen the usual UFO nonsense pitched, with others suggesting they may have been caused by meteorites.
But the leading theory is the craters are the result of natural gas chambers heating up and then exploding as a result of climate change.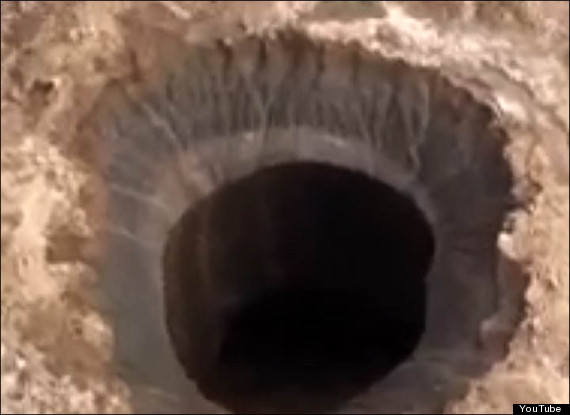 This 262ft cavity was filmed from a passing helicopter last year
Professor Bogoyavlensky said: "We need to answer now the basic questions: what areas and under what conditions are the most dangerous? These questions are important for safe operation of the northern cities and infrastructure of oil and gas complexes."
He added he planned to launch a new expedition into studying the holes and to put stations in the area to detect earthquakes which may strike when the craters open.
Dr Carolyn Ruppel, a research geophysicist at the Woods Hole Field Center in Massachusetts and chief of the US Geological Survey's Gas Hydrates Project, told The Huffington Post she was not surprised that new holes had been found.
Ruppel, who is not involved in the Siberian research effort, echoed Prof Bogoyavlensky's call for further research on the chasms.
"The processes that are causing them to form likely occur over a wide area of the continuous permafrost in this part of Siberia," she said via email.
"Scientists should definitely conduct more research on these features to determine the processes that cause their formation, how they evolve with time, and whether it is possible to predict where new ones will occur."
A further theory is that of Australian polar scientist Dr Chris Fogwill.
In July Dr Fogwill posited the theory the most recent 262ft wide crater had been caused by a geological phenomenon called a pingo.
He told the Sydney Morning Herald: "Certainly from the images I've seen it looks like a periglacial feature, perhaps a collapsed pingo."
According to the National Geographic, a pingo, or a ice-cored mound is a permafrost landform created as water freezes beneath the ground's surface and forms ice masses that force the frozen ground layers upward.