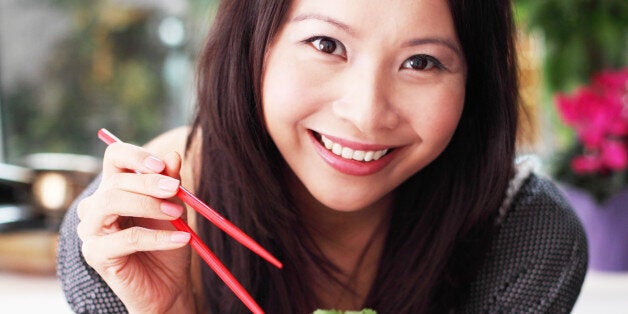 As the Feasts On the Street cooking challenge reaches the final episode, and our winners are imminently announced, we checked in with Ching-He Huang, the Amoy brand ambassador, for the absolute essentials on making a killer Chinese dish.
With her laidback approach to Chinese cooking, celebrity chef Ching-He Huang has helped make delicious Chinese cuisine accessible to food lovers across the world.
The food writer, TV cook and entrepreneur was born in Taiwan to Chinese parents and left for South Africa at the age of five, before emigrating to the UK with her family aged 11. She's the inspiration behind the Feasts on the Street challenge, which takes complete amateur cooks and turns them into street food entrepreneurs, and has a lifetime of experience for our three teams to take on.
"Up until the age of five, I grew up on my grandmother's farm in Southern Taiwan. She 'taught' me to 'make' Zong-Zi; bamboo-wrapped sticky rice dumplings for the Dragon Boat Festival in Taiwan," Ching tells Huffington Post UK.
"Later, I had to cook in my teens growing up in London, for my father, when my mother was away for work! My mum would teach me dishes before she went away and that's how I learned - through her shortcuts and out of necessity.
Ching's connection to her Chinese heritage has remained strong from an early age thanks to her passion for cooking and love of top-quality Asian ingredients and exciting flavours.
Her favourite family dishes are her grandmother's five-spice peanut chicken rice (based on the Taiwanese 'you fan' or oiled rice), her mum's hot and sour soup (which she would make using fresh bamboo shoots from the Huang family farm and bring back vacuum-packed) and her mum's homemade pineapple cake, a type of shortcake, which Ching describes as "out of this world."
"I love the spicy, hot, sour, fragrant, sweet, umami flavours of the Orient. I enjoy fusing ingredients, flavours and cooking techniques to bring about a great dish.
"Above all, the one thing all Asian cooks agree on (whether Chinese, Japanese or Korean) is that ingredients have to be fresh. Creating a great dish relies 70% on the freshness of the ingredients and 30% on skill. To me, the quality of ingredients is king."
Ching launched her catering business, Fuge, Ltd. after graduating from university with a first-class degree in economics, producing fresh, healthy foods for London's top blue-chip companies for a decade, before embarking on her TV career.
Ching is known for using fresh, ethically sourced ingredients and adapting traditional Chinese recipes for a contemporary audience, making even the most intimidating recipes (Peking duck, anyone?) accessible to everyone. When it comes to her cooking philosophy, it's all about the flavours:
"I love complex flavours in a dish, where the balance of hot, sour and spicy might be present, but the 'Běn-wèi' - the original 'essence' of the main ingredient - is very much present and remains the star, so it is not masked but rather enhanced. That is the true skill of Asian cooks. The complex balance of flavours achieved in any dish is what makes Asian cuisine unique."
She first landed on TV screens in 2006 with her Good Food Channel show, Ching's Kitchen, and has since fronted programmes on a number of channels including the BBC and Cooking Channel that have aired around the world. Her most recent show has been Cooking Channel's Restaurant Redemption, where she travelled across the US to meet failing restaurateurs and help them save their businesses.
Ching was also nominated for a daytime Emmy in 2013 for outstanding culinary host in the U.S - her mother's proudest moment of her daughter's career so far!
"However, I'm most proud of travelling across China for 6 weeks, filming Exploring China for the BBC and cooking for top Chinese chefs. I learnt so much and seeing them enjoy my food gave me much joy, even though we nearly died from exhaustion from being on the road continuously!" she says.
The chef published her first book, China Modern, in 2006, as well as four other best-selling cookbooks, and her newest release, Eat Clean: Wok Yourself to Health, which focuses on tasty, practical and healthy recipes for the time-starved, will be published by HarperCollins in March 2015.
For 2015/2016, there's another TV series in the works, as well as restaurant plans and lots of travelling.
"My Chinese New Year resolution this year is to learn more, and take a more balance Yin-Yang approach to my cooking and lifestyle," says Ching.
Ching also has her own range of branded woks and traditional-meets-modern serving sets to add a colourful, Asian ambience to any kitchen.
As Amoy brand ambassador, Ching has put together 12 delicious, nutritious - and best of all - quick to prepare "Amoyzing Meals in Minutes," complete with recipes and video tutorials so you can bring Asian flavours to your dining table any day or night of the week.
Some of our favourites? Thai Pork and Peanut Satay Stir Fry, Cantonese Oven Baked Sea Bass, Chinese BBQ Pork Buns, Hoi Sin Chicken Lettuce Cups and Japanese Udon Noodles with Hoi Sin Duck.
"I enjoy the brand's essence and dedication to quality authentic ingredients from Asia, which I share, from their coconut milk to their non-GM soy sauces," says Ching.
"Plus, Amoy Peanut Satay sauce is one of the best I've tried. I love that Amoy's recipes and meals are always well balanced, health-conscious and delicious."
Using a handful of fresh ingredients and Amoy's signature noodles and sauces, these recipes add some excitement and inspiration to your midweek meal repertoire. Check out Amoy's YouTube channel for all of the videos.
"Did you know that 'Amoy' is a slang term to describe Chinese that originated from Xiamen, Fujian in China? This is also the province where my great grandparents are from… something we both have in common," explains Ching.
If you're keen to try your hand at Asian cooking but aren't sure where to start, Ching recommends selecting some basic Asian store cupboard essentials: you need a good-quality dark soy sauce from Amoy, low sodium light soy sauce, Chinese five spice powder, rice wine, toasted sesame oil, black rice vinegar and dried chilli flakes. Those basics are enough to get you started in creating different flavour combinations.
"I would say start with a dish you enjoy and then practice makes perfect. Master it and once you have built up the confidence move on to other dishes. To be a good cook requires patience and effort - like acquiring any skill in life," says Ching.
Here are a few other fun facts you probably didn't know about Ching...
- I enjoy noodles any time of the day!
- I love all things Asian food except for insects!
- I hate waiting for water to boil, and prefer wokking
- Favourite street food - Taiwanese stinky tofu! Has to be Taiwanese, the Shanghai version is a particular no-no for