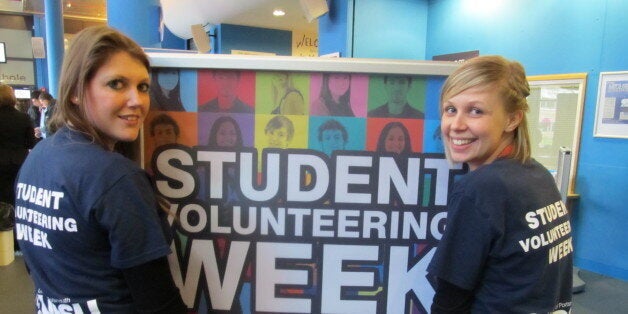 Student social action and volunteering contributes £175m to the UK economy while 57% of further education students are involved in volunteering, according to findings from the National Union of Students (NUS).
A report from the NUS and the Association of Colleges found 57% of sixth formers and further education students take the time to volunteer, with 77% saying they would be happy to volunteer even more.
The report comes during the NUS's Student Volunteering Week. The week of events saw school pupils, student's unions and societies up and down the country hosting volunteering activities and fundraisers.
In a blog for the NUS, Charlotte Hill, chief executive of the charity Step Up To Serve and one of the judges on the Student Volunteer Awards 2015, wrote: "The impact that students make through taking part in social action, such as volunteering, and campaigning, whilst at university, contributes the value of £175 million to the UK economy.
"We want to see more students' unions pledging to share their success stories, such as those which came to light through the Student Volunteer of the Year awards.
"We also would love to see students' unions taking steps to encourage their older students to volunteer to facilitate social action projects for a greater number of younger participants; this will lead to embedding social action earlier in the journey of younger people, creating habits for life."
Chief Executive of the Association of Colleges Martin Doel, writing in a post for the social action campaign #iwill.org, said: "Policymakers need to understand that colleges, which are already under such great pressure, need to have support in making these activities a reality for all. High-quality youth social action must be recognised as a valuable form of work experience. The skills and experience developed, such as team work and communications, are invaluable to future employers.
Student Volunteering Week also saw the announcement of Bristol University student Conor McGlacken as student volunteer of the year.
McGlacken, who volunteers for the charity Engineers Without Borders, told the NUS winning the award was "a real privilege, the standard of the shortlist was so high any one of us would have been a deserving winner."
Engineers Without Borders aims to fight poverty through improving access to technology and encourage international development. McGlacken started an outreach programme through the charity which taught hundreds of school children about international development and engineering.
Popular in the Community