As you sit in your lovely warm home, fed, watered and generally being a rather lucky animal, spare a thought for one not so fortunate as you.
The damp squid.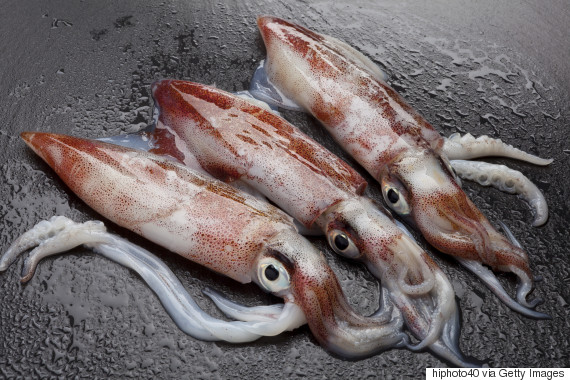 This poor creature - despite never doing anything to harm any of you - is unfairly maligned and blamed for a whole host of social ills.
It may be a damp squid but if #Bercow's mood is anything to go by, tonight's #InsidetheCommons 9pm BBC2 should be interesting....

— Michael Fabricant (@Mike_Fabricant) February 24, 2015
You see the phrase isn't "damp squid" it's"damp squib" - but that doesn't stop the blame being cruelly hurled around.
Crap TV...
After all that PR & Marketing by @Arsenal and @SkySport

The Invincibles Documentary must have been a damp squid in terms of viewing numbers

— RED TEMPTATION (@TheArsenalNote) February 26, 2015
Is #Broadchurch finale going to be a damp squid or a firecracker? Will soon know.

— Peter Tickler (@ptickler) February 23, 2015
A lack of work...
@pangary hardly any work coming my way for ages. ...bit of a damp squid

— The Cab Shed (@cryingfish59) February 26, 2015
Even the weather...
Might have felt more like a damp squid...but find out how deep #blizzard2015 really was using the "six dogs" measure http://t.co/8uhAhm970D

— Nikki Jecks (@NikkiJecks) January 27, 2015
You see, "damp squib" - used as a term for failure is actually named after a dud 19th century explosive mining device.
But just won't stop people...
Okay... you all know I love BLUE !!! But Nash Grier's eyes are freakish BLUE, and simply a damp squid. pic.twitter.com/GkqfnedAxD

— Blue Jacket (@jacksbluejacket) January 20, 2015
Protest was a damp squid but I'm glad I took part. I will not sit idly by and take this. Anything I can do I will #avfc

— Amar (@AmarAvfc) January 17, 2015
And it's not the only mis-quoted English phrase (though it is the most).
We also have...
"On tenter hooks."
- random interview. Always sitting on tender hooks to see if he would mention me, or his old life. He never did, but there was always that -

— Grace Evans (@SolitudeOfGrace) February 28, 2015
"Nip it in the bud."
ready for action, nip it in the butt

— Amuuu (@PeltonAmy) February 28, 2015
"Champing at the bit."
Just heard that @marklevinshow is chomping at the bit to make some pertinent comments at #CPAC2015 tomorrow at 8:30am! Can't wait! #tcot

— Cheryl Lankes (@partysmartHEIR) February 28, 2015
"A moot point."
Question: What happened to the DINO Blog on the website?

Answer: When I joined Breitbart this rendered the website blog a mute point.

— I TALK...YOU LISTEN (@DINOCOSTANEWS) February 25, 2015
"One fell swoop."
Having a bad night. Massage chair and iPod broken in one foul swoop..tempt fate and ask "what next?"

— sharon mcmillan (@cootsmithson) February 25, 2015
"All that glisters is not gold."
All that glitters is not gold.....remember that

— Michael Parr (@MikeParrActor) February 20, 2015
"Averse to."
@KrisTerpstra I'm not adverse to eating crow, but I need something. I never thought I'd be bored of Outlander 😔

— Kate (@Onapinandneedle) February 28, 2015
"Batten down the hatches."
While the NE is batting down the hatches for #blizzard2015 I'll be at the beach. (No clue who those 2 bozo's are tho) pic.twitter.com/VdSrlcK8eD

— Tricia Mangold (@lv30stm) January 27, 2015
"Find a pin pick it up."