Mobile phone manufacturer BlackBerry has made a return to the touchscreen device market with a new mid-range phone, and teased a curved screen device with a sliding keyboard to come out later this year.
At the company's press conference on the second day of Mobile World Congress (MWC) in Barcelona, the Canadian firm announced the new BlackBerry Leap, a new mid-market smartphone that will be available for less than 300 US dollars (£195), and comes with specifications similar to those of Samsung's Galaxy S4, which was launched two years ago. It has a five-inch, 720p resolution screen, and will be aimed at emerging markets such as Brazil and Indonesia.
The firm is looking to mount something of a comeback after a fall in popularity in recent years. Once the must-have device for business executives and government officials because of the secure email service incorporated in handsets like the Curve, BlackBerry has since seen market share vanish to Apple's iPhone and rivals running on Google's Android operating system.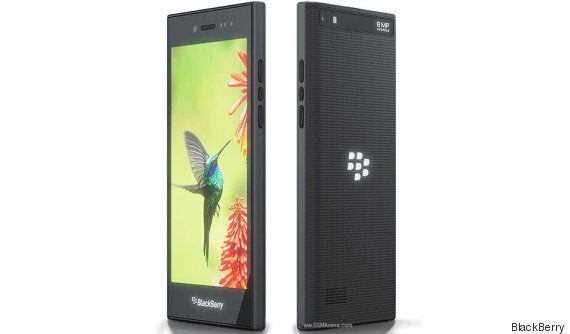 In an attempt to keep up, the company launched its first full touchscreen smartphone, the Z10, in 2013 but it performed poorly. Since then, BlackBerry has shifted to focus more on its software business and core strengths such as data security. However, the company has stressed it remains committed to its devices business.
At MWC last year, BlackBerry unveiled the Z3, priced at under 200 dollars (£130). The Z3 was aimed at reviving BlackBerry sales in emerging markets such as Indonesia, but failed to make much of an impact.
Towards the end of 2014, BlackBerry also announced the Classic, a more traditional smartphone complete with the firm's famous physical keyboard.
As well as the Leap, BlackBerry chief John Chen confirmed that the firm is looking to roll out two more phone models in 2015, both also coming with signature keyboards. One of these is set to be a high-end device similar to the new Samsung Galaxy S6 edge - complete with the same screen that curves over both edges. The device is full touchscreen, but has a sliding keyboard.
"We don't have a codename for it but I call it The Slide," said Mr Chen. "It will come some time this year," he added, without giving a launch date. There was also no mention of a price.
Earlier this week, BlackBerry also announced plans to bring more of its software to other devices, following on from the movement of its popular messaging service BBM on to iOS, Android and Windows. The firm said apps such as BlackBerry Hub and its virtual keyboard would be made available to users on other platforms.
Related