Six potential sites for a UK spaceport have been announced — and published alongside one of the most hilarious pieces of conceptual space art in recent memory.
The shortlist has been cut from the eight named last July following a three-month consultation.
The six sites are now Campbeltown, Argyll and Bute, Glasgow Prestwick in South Ayrshire and Stornoway on the Isle of Lewis in Scotland, as well as Newquay in Cornwall and Llanbedr in north Wales. RAF Leuchars in Fife was also confirmed as a potential temporary facility.
Two airfields at RAF Lossiemouth and Kinloss Barracks in Moray have been ruled out by the Government for "overriding military operational factors".
This is the current concept drawing: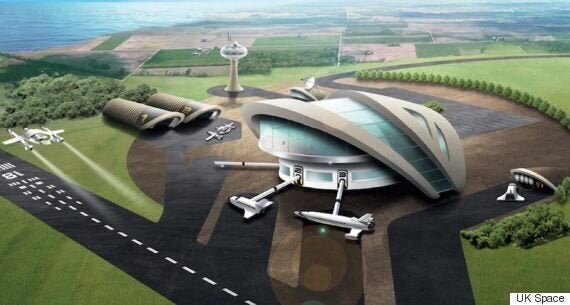 The aim is to have an operational spaceport by 2018, which could be used to launch tourists into space as well as commercial satellites.
Aviation minister Robert Goodwill said: "I want Britain to lead the way in commercial spaceflight. Establishing a spaceport will ensure we are at the forefront of this exciting new technology.
"Today's consultation response marks another step forward in our work to support this emerging industry, which will create jobs and drive economic growth."
The next step will be for the Department for Transport to develop a detailed technical specification of spaceport requirements, due to be published later this year, before inviting proposals.
The Civil Aviation Authority (CAA) said potential spaceport sites should have a runway which is already more than 3,000m (9842ft) long or could be extended to that length, and is located away from densely populated areas.
It should also be able to accommodate areas of segregated special use airspace to manage space flights safely.
The CAA also strongly recommended that a spaceport should be situated at a coastal location.
"Launching satellites and operating commercial space flights from our shores was once only confined to the depths of science fiction," said business secretary Vince Cable. "But with the results of this consultation we are one step closer to making this a very real ability in the near future."