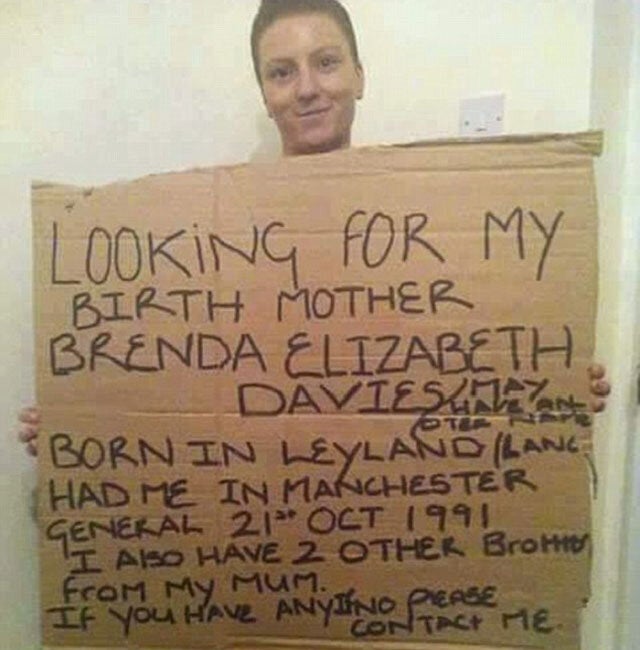 A daughter who spent eight years searching for her natural mother found her within 20 hours of posting a Facebook appeal.
Stacey Lee, 23, uploaded a selfie of herself wearing a large 'Find My Mum' message board to her Facebook page.
The photo quickly went viral, being shared 100,000 times – and just a day later, Stacey received a call from a woman who said she might be her cousin and put her in touch with a woman called Brenda Drake, 46 on the social media network.
Nervous Stacey got in touch with Brenda and as they chatted, they quickly realised they were mother and daughter and were later reunited during a tearful meeting at a pub near Brenda's home in Blackpool, Lancashire.
The pair had become separated in 1993 when Stacey was a baby after she went to live with her father and two brothers.
She began looking for her mum when she was a 15-year old schoolgirl but it wasn't until her boyfriend Martin Smith, 22, encouraged her to create the message board that she got the breakthrough she dreamed of.
Written on the board, made out of cardboard, was her mother's name along with details such as her birth date and the hospital where she was born.
Describing the moment she saw her mum's Facebook profile, Stacey from Chorley, said: "I couldn't believe it. She looked like me.
"I sent her a message and told her that I had missed her and that I wanted to build a relationship with her.
"She sent me her phone number and I called her. I was shaking as I dialled the number and I just sat staring at the phone for 15 minutes before I made the call.
"Mum told me that she had four other children and that she had always thought about me and my older brothers.
"We cried together on the phone. It was very emotional and I was so happy that I had finally found her.
"I arranged to go and meet my mum the following day in Blackpool. I went to meet her in a pub and when I saw her I just hugged her and we both cried.
"We look a lot like each other and I am quite shy and quiet like her."
Growing up Stacey had always wondered about her mum, and knew her name was Brenda Elizabeth Davies and that she was born in Leyland.
But she didn't know her age and had never seen a photograph of her.
Stacey said: "When I first met my partner Martin five years ago I confided in him about my long-lost mother and he was so supportive.
"Last week Martin and I were talking about my mum and he encouraged me to create a sandwich board and use it to look for her on Facebook. I had seen similar posts on social media and I just thought 'why not?' I had nothing to lose.
"I wrote my birth date and the hospital I was born in along with my mum's full name and birth place. I knew my mum might have changed her name since I was born but it was worth a shot."
Stacey's friend took a photograph of her holding the makeshift cardboard sandwich board and posted it to her Facebook page.
Within 10 hours the post had been shared 60 times, and the next day Stacey was contacted by Kerianne Davies, a friend she had known in her teenage years.
It turned out Kerianne's father was Stacey's mum's brother. I used to go round to Kerianne's house a lot when I was a teenager, so it turned out that I had known my uncle all along.
Stacey found her mother's Facebook page and sent her a message.
Within an hour Brenda had replied and the pair exchanged phone numbers.
Brenda explained that she had changed her surname to Drake after getting married, and she moved to Blackpool soon after she had been separated from Stacey and her brothers Stuart, now 26, and Steven, now 25.
She went on to have four more children, Shannon, 19, Shona, 15, Aaron, nine, and Sabrina, eight.
Brenda said: "I regret losing contact with my three eldest children. I thought about them a lot, especially at times like Christmas. I tried looking for them but I always came to a dead end.
"When I received the Facebook message from Stacey I couldn't believe it. She was so beautiful and I just couldn't wait to meet her.
"Stacey is so sweet and adorable and my other children were so pleased to find out they had an older sister."