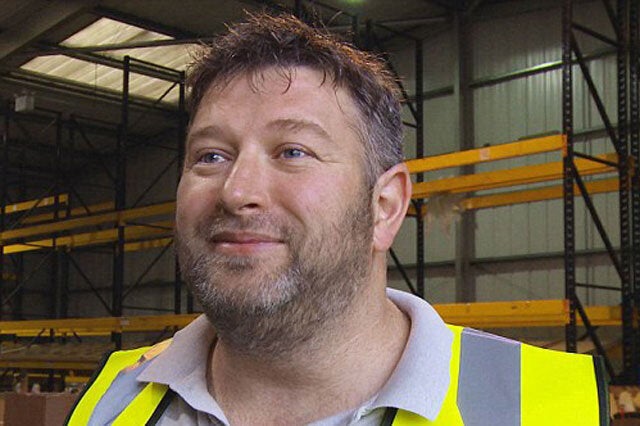 A dad who was rejected in Dragons' Den has become a millionaire after setting up an online business selling out-of-date food to busy parents.
Dan Cluderay, 40, from Worksop, Nottinghamshire, went on the TV programme to pitch his idea about selling food that has passed its 'best before' date.
The dad-of-two and his 50-year-old business partner Andy Needham, had asked the Dragons for £150,000 cash injection for a 10 per cent share in their company, Approved Food – which boasts it can save families up to £60 a week on their weekly shop.
But all four Dragons rejected the idea so Dan and Andy had to raise £400,000 through loans and investments from elsewhere.
Their company now has a £4 million turnover based on the principle that food products that are past their 'best before' date are still edible and safe (which is different to the 'use by' date, after which consumption is deemed risky).
Dan's success is a remarkable story of determination after he was forced to have a career rethink when he was made redundant from his job at an IT firm in 2001.
With his wife, Nichola, they pair set up market stalls in Hull, Leeds and Doncaster selling branded chocolate, fizzy drinks and crisps which had been shunned by a range of supermarkets as they were either fast approaching or past their 'best before' date.
But his 'eureka moment' came when he received a crate of Twinings nettle tea.
He told the Mail: "I suddenly realised that while there might not be the demand for nettle tea in Doncaster, if I could match the goods with customers looking to buy, I'd be on to a winner."
Dan, who has two sons, nine-year-old Rudi and Jay, five, used his computer skills to start forming a plan to launch his business and since then, Approved Food has gone from strength to strength, employing 50 full-time staff.
Explaining the thinking behind the company, Dan said: "There are only two dates people really need to know about.
"The 'best before' date which means that the food will be at its optimum before that date and acts as a guide to the quality, and then there's the 'use by' date which is concerned with the safety aspect.
"It's only the 'use by' date that means food has to be eaten by then or it could make you ill, which is the case with fish and meat, for example.
"Food is perfectly fine to be eaten way past its 'best before" date, as people know, but the large supermarkets won't do that and that's where we come in.
"We sell food, such as cans of baked beans, pasta sauce, tins of tuna, which may have gone past their 'best before' date by a few weeks, but everyone knows they will taste just the same as the products which have weeks left to run."
The company sends out around 600 orders a day with the average shopper spending around £40 a week buying cupboard staples such as pasta, pasta sauce, flour and toilet rolls.
Dan said: "By comparison, they'd be spending around £100 at one of the major supermarkets so they're actually saving around £60 which they can then spend on something else.
"We don't touch food that has a limited shelf life such as fresh chicken and fresh fish, but we do sell hardy vegetables."
He added: "Our biggest customers are by far and away mothers as they're the ones usually in charge of the purse strings and are always thinking how to feed their families. If they're happy, then so are we."
Dan's success story featured on the television programme Bargain Fever Britain on ITV on Tuesday night. You can still watch it on the ITV Player.