Food plays a central role in Holi, the Hindu festival of colours that marks the start of spring.
TV chef Anjum Anand has created three delicious recipes for you to enjoy during the annual festivities, and they're so tasty that we bet you'll be making them again and again as spring rolls into summer.
Grilled Chickpea Seekh Kebab Wraps
Serves: 6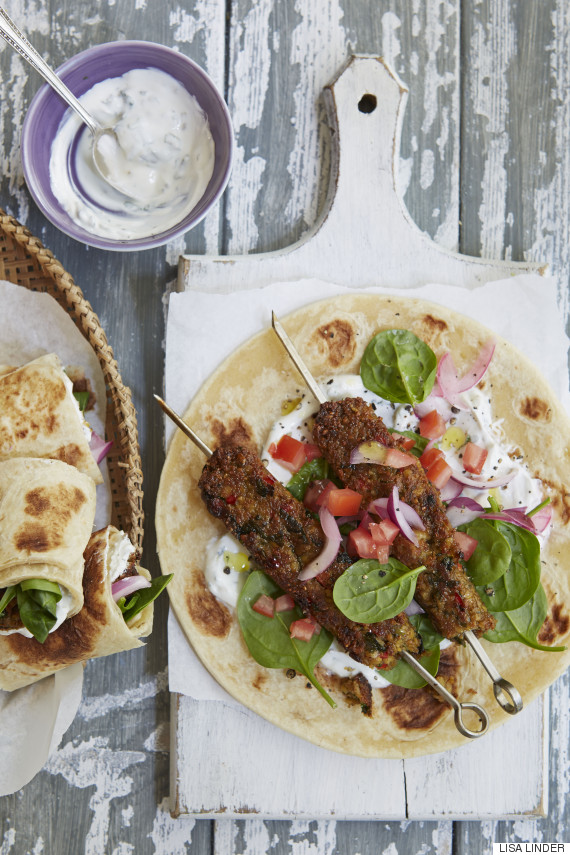 Normally seekh kebabs are made with lamb mince. This protein packed version is equally delicious and satisfying enough to make a healthy, light meal. I know it is odd to see cheese in Indian food but it really helps to add some umami flavour and bind the kebabs together. You can also lightly fry them in a non-stick frying pan (with or without skewers) in which case you don't need to brush with butter.
To make the recipe healthier you can leave out the butter and eating them with the yoghurt, but they will taste a bit dry.
Ingredients
11/2 tbsp vegetable oil
1 medium red onion, half finely chopped and half finely sliced (for the wrap)
2 tsp ginger, finely chopped
2 cloves garlic, finely chopped
400g can chickpeas, drained and rinsed
1-2 tsp finely chopped green chillies, to taste
3 tbsp finely chopped red pepper
20g grated cheddar cheese
1 tsp cumin
1 tsp garam masala
1 tsp dried mango powder (or serve with lemon wedges)
3 tbsp breadcrumbs
Salt and 1/8th tsp freshly ground black pepper (or to taste)
2 small fistfuls of chopped fresh coriander
1 rounded tbsp butter, soft or melted
Large skewers, soaking in water as you cook
To serve
6 tortillas or thin flatbreads
8-10 iceberg lettuce leaves,
Small fistful of chopped mint leaves
Small fistful of coriander leaves
½ lemon 2
50g thick Greek yoghurt
Method:
1. Mash or blend the chickpeas until they are a coarse puree.
2. Heat the vegetable oil in a small non-stick frying pan and add the chopped onion and some salt; cook until soft and then golden. Add the ginger, garlic and chilli and stir fry over a gentle flame for 1 minute or until the garlic is just cooked. Add the cumin and garam masala with a splash of water and cook out until there is no moisture left in the pan and you can see the mixture frying in the oil. Add this to the mashed chickpeas, along with the fresh coriander, dried mango powder, cheese, red pepper and breadcrumbs. Mix well, taste and adjust the seasoning to taste. Leave to cool.
3. Meanwhile, stir the handful of chopped mint and coriander into the yoghurt along with salt and pepper to taste. Marinate the sliced onions in a good squeeze of the lemon juice.
4. Roughly portion the kebab mix into six and with slightly oiled hands, form the seekh kebabs around the skewers, you can make these round or slightly flattened. Preheat your grill setting on your oven. Put the skewers on oiled foil and place about 4" away from the hot grill. Cook for 10 minutes, carefully turning halfway, or until browned on both sides.
5. Place the breads in foil in the oven to heat through for the last 3-4 minutes before the kebabs come out. Brush the cooked kebabs with the butter (they will be dry and quickly absorb the fat).
6. Quickly ease the kebabs off the sticks and place straight on the breads, top with the onions, lettuce and yoghurt, wrap and serve.
SEE MORE

Holi Festival 2015 In 37 Vibrant Pictures

Vegetarian Recipes: Anjum Anand's Indian Potato Salad And Chickpea Burgers
Saffron and Rose Poached Apricot Pavlova
Serves 6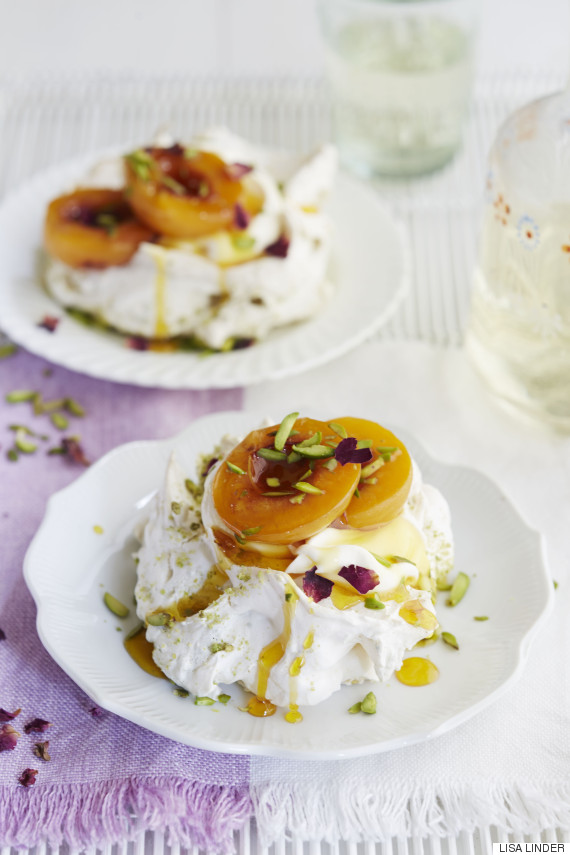 Ingredients
4 egg whites (medium-large)
250g caster sugar plus 1 tsp for cream
½ tsp white wine vinegar
9 fresh apricots
Large pinch saffron
2 large pinches dried rose petals or rose essence to taste
1 cup sugar
2 cups water
300g double cream
4 tbsp proper Greek Yoghurt (it should be very thick)
6 tbsp coarsely ground pistachios plus a good handful for garnish
Method
1. Preheat the oven to 200C. Place greaseproof paper on your baking tray. I like to put a little oil underneath so that it stays in place as you spoon the pavlova on to it.
2. Place the whites (with no traces of yolks) into a clean whisking bowl and whisk until the eggs reach soft peaks. Add the sugar all at once and continue whisking until the sugar has dissolved and the meringue is glossy. Add the vinegar and after a few more beats add the coarsely ground pistachios and stir them in by hand.
3. Form 6 equal sized small round meringues on the baking sheet. I like them rounded and quite natural looking. Place in the oven, turn the temperature right down to 120C. Bake for 80 minutes and remove from the oven. Set aside. This can be made a day in advance.
4. Half the apricots and remove the stone.
5. Meanwhile, bring the water and sugar to boil in a medium-sized saucepan. Once the sugar has dissolved, add the saffron and rose petals. Simmer for a few minutes and add the apricots. Poach until they are soft, around 4-6 minutes. Take off the heat and leave to cool in the syrup.
6. When you are ready to eat, whisk the cream and extra sugar until it just holds its form. Stir in the yoghurt.
7. Spoon over the meringues and top each with three halves of the apricots and a little syrup over the top. Sprinkle over the remaining pistachios and serve.
Cardamom and Orange Sharbat Kulfi
Serves 4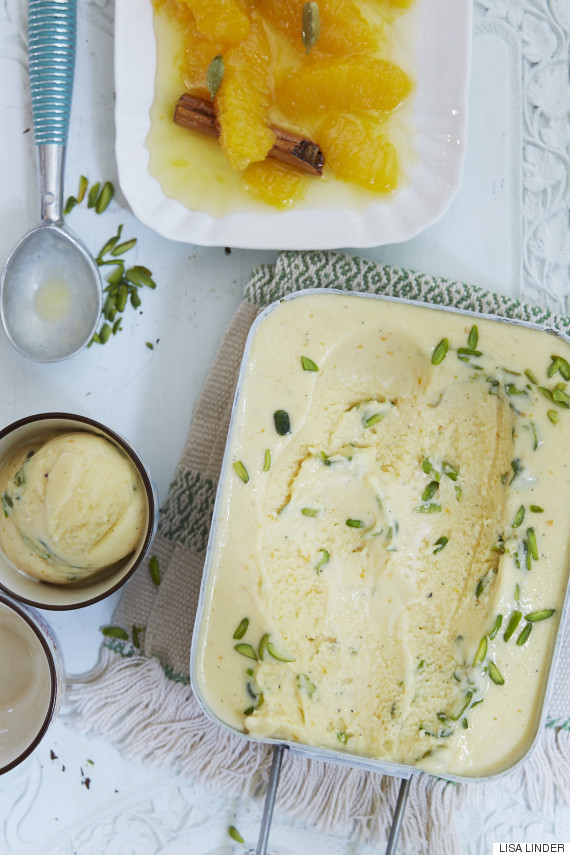 Sharbats were flavoured sweet and sour drinks that were cooling and refreshing as well as zingy. This take on kulfi takes the flavours of a sharbat but made in a quick and easy way, more like a light gelato.
Ingredients:
5 oranges, juiced (around 400ml)
120g caster sugar
Rind of 2 oranges
3 tsp cornflour
800ml milk
½ tsp cardamom powder
Pinch of salt
2 tbs crème fraiche or double cream (optional)
Handful of chopped pistachios
Method:
1. Combine the orange juice and 3 tbsp of the sugar in a small saucepan. Stir over medium heat until the sugar dissolves. Bring to the boil, and cook, uncovered, over medium heat for 10-15 minutes or until reduced to a sticky syrup, there will only be around 80ml left. Leave to cool.
2. Pour 50ml of the milk into a small bowl and stir in the cornflour. Stir until dissolved. Pour the rest of the milk into a large, thick-bottomed pot with the sugar, pinch of salt, cardamom and orange rind and bring to a boil, stir often and make sure you scrape the base so the milk does not catch and burn. Simmer, stirring often until the milk reduces to 500ml. Pour in the cornflour as you stir and cook, stirring as it comes back to the boil and thickens, around 5-7 minutes. It should be like custard. Take straight off the heat and leave to cool.
3. Stir in the orange syrup and mix well. Add the crème fraiche or cream if using, along with the pistachios and pour into a freezer proof container, cover and chill. Then place in the freezer until frozen, around 3 hours. Take out and blend the whole thing to make it smooth, then replace in the freezer for another few hours or until frozen. Alternatively, churn in an ice-cream maker until done.
4. Allow to soften for 10-15 minutes before serving.
More of Anjam's recipes can be found on http://www.anjumanand.co.uk/.