You may not have yet heard of The Shires, but they just made British music history, becoming the first EVER (strangely true!) homegrown country music band to break into the UK's top ten album chart.
They kept it interesting, sneaking into tenth place, in between the more expected sounds of Paloma Faith at number nine and Hozier at number eleven, but make no mistake, they've done it, and with their debut album 'Brave' - even if this Guinness Book of Records entry was an accidental by-product, as one half of the duo, Ben Earle, tells it.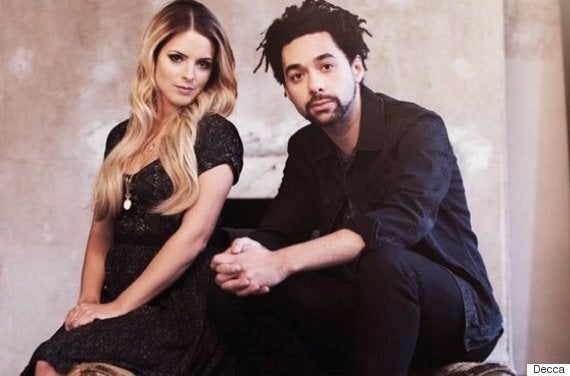 The Shires formed after Ben posted on social media 'There must be a country singer out there'
"This has all taken us by surprise," he tells HuffPostUK, audibly scratching head. "We saw the midweek charts and thought, really? I just can't believe it hasn't happened before."
Although Ben's creative partner Chrissie (Rhodes) has been singing country music her whole life, it took Ben a recent crisis of confidence to help him find his way. That, and hearing for the first time 'Need You Now' by Lady Antebellum (we're guessing NOT the live Jubilee version by Gary Barlow and Cheryl Cole, but perhaps the band's own)…
"I'd been really struggling, nobody wanted to hear anything I had to say," he reveals now. "I heard that amazing song, and somebody explained to me it was country music.
"I'd been trying to write for other people, but the honesty of their work, the simplicity and the storytelling… I just sat straight down and started writing what was important to me."
The rest is history, with the Shires becoming the first UK country band to be signed to a US label (Decca) and now this. As well as his favourite multiple Grammy winners, Ben is swift to credit Taylor Swift for "paving the way" for his band's success.
"Taylor set the whole thing up," he says admiringly, "plus you can't underestimate what she's done for music. All this fear of ticket sales dwindling, album sales, and she just disproves all of that."
So why has country come mainstream finally? Ben has two theories…
"Everything feels so bad in the world sometimes, I think people just want something nice and simple to listen to.
"And these days, on the tube, on the bus, it's all about headphones, and headphones are all about lyrics. We can just go into our own little worlds, and I think people are ready for it."
The chart numbers would seemingly agree.
'Brave' is on sale now. Watch them in action in their video for 'Nashville Grey Skies' below...
Related