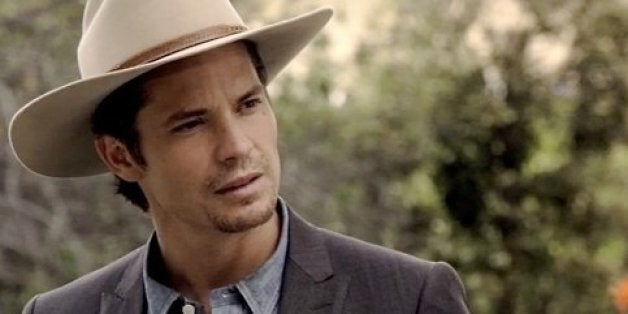 Wondering how to become a worldwide TV star, with your choice of shows on screens big and small? 'Justified' star Timothy Olyphant shows how it's done...
1. Find a thing you're very good at early on…
Timothy Olyphant started swimming competitively from the age of six, and was a nationally ranked athlete by the time he was at school. He dazzled in the pool during his time at the University of Southern California, heralded as an all-star swimmer by the time he graduated.
2. Follow the neon lights…
The stage was Timothy's first creative calling, taking him to New York and off-Broadway. His very first role in 1995 earned him a Theatre World Award for Outstanding Debut.
One of Timothy's first TV appearances was as one of Carrie's boyfriends in the episode 'Valley of the Twenty Something Guys'. He also chalked up turns in '77 Sunset Strip' and 'High Incident' but, back then, telly wasn't really his thing.
4. Appear in two of the biggest cult films of the decade
5. Get a lead role in a HBO series
In 2003, Timothy was given the highly-prized lead role of Sheriff Seth Bullock in HBO's new western 'Deadwood', set in 1870s Dakota, and twisting a path between fiction and historical truth to include some of the Wild West's most fabled characters, such as Wild Bill Hickok, Wyatt Earp and Calamity Jane. Although he shared the screen with a pedigree role call of the likes of Emmy nominee Ian McShane and the Oscar-nominated John Hawkes, Timothy became one of the prize draws with his nuanced portrayal of complex law-protector Seth.
The show as a whole was critically acclaimed for its profound, profane, sometimes comical study of politics, greed and how society can emerge from chaos. The show won eight Emmy Awards, a Golden Globe before disaster struck and 'Deadwood' was cancelled after three seasons but, by then, Timothy Olyphant's star was assured.
6. Get a bigger lead role on a bigger, even better series
Following a stint on 'Damages', Timothy scored the big one in 2010 – the lead role in big-budget FX drama 'Justified'. In the show, which has run for six seasons so far, he plays US Marshal Raylan Givens, a man forced to return to his home state of Kentucky, following his controversial but "justified" shooting of a criminal in the badlands of Miami, and someone determined to hand out his own interpretation of justice when required.
The show is based on a series of books by American legend Elmore Leonard, and Timothy got to behave like a proper old-town Sheriff, straight from somewhere like Deadwood. If Givens is a thoroughly 21st century hero in all his complexity, Stetson remains obligatory.
'Justified' is heralded as one of the greats of the current crop, following such shows as 'The Wire','The Sopranos' and 'Breaking Bad' with its adherence to the credo that every man is subject to his own personal code, whatever battering this is given by their everyday dealings with the real world. And Elmore Leonard's bemused eye is apparent in every scene, with even the worst of men here providing engrossing drama.
7. Get yourself a worthy enemy to create one of TV's great rivalries
In local criminal Boyd Crowder (Walton Goggins), US Marshal Givens has his great antagonist. From the very first episode of 'Justified', it is clear that, in Boyd, Givens has his Moriarty, someone who understands him all too well, and will push all his buttons, based on an intimacy forged when they worked together in a coal mine as teenagers, and a rivalry where both adhere to similar philosophies – that who we are is based on how we choose to behave. And so it proves, as his dealings with Boyd bring out both the best and worst in Timothy Olyphant's character, and remind us of just how morally challenging good telly can be.
8. Get yourself an exec producer credit, which means you get to make the decisions
By the sixth season, Timothy Olyphant is firmly installed as not only the show's lead, but also one of its key creative guides. He told the Huffington Post about his expanded duties on 'Justified': I love my job as an actor, and obviously that's what I'm getting paid to do, but I feel the real treat on the show is engaging with show runner Graham (Yost) and the rest of them."
Timothy Olyphant also said, "It's very rare that you can be in a career for as long as I have, and still feel like you're constantly learning and coming at it from an almost childlike perspective. This show has afforded me that experience.
"I think that always as an actor, I don't want to overstep or pretend that I'm doing anything more than I'm doing."
Justified Series 1-5 is available on DVD Box Set and Digital Download.
Popular in the Community