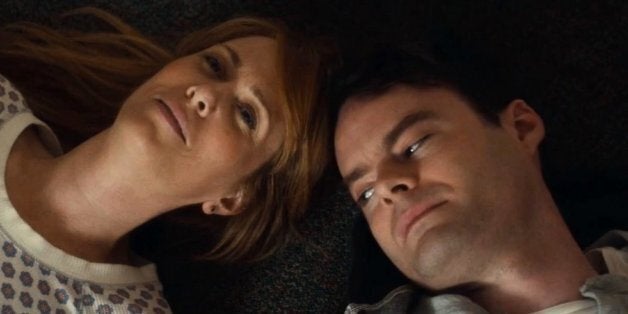 This week sees the release of critically acclaimed comedy-drama 'The Skeleton Twins', in which Kristen Wiig plays a depressed woman attempting to reconnect with her estranged twin brother (Bill Hader). The film is the perfect comic vehicle for Wiig, whose post-'Bridesmaids' career continues to impress, as evidenced by her top-lining the upcoming all-female 'Ghostbusters' reboot. To celebrate the rise of women in comedy, we've highlighted the top ten female comedians to look out for on screen this year.
One of the most influential female comedians working today, Tina Fey's multiple award-winning career spans acting, producing and writing – she even sang two songs on the 'Muppets Most Wanted' soundtrack. Her new show 'The Unbreakable Kimmy Schmidt' (which she wrote and produced) is currently the toast of Netflix and has drawn favourable comparisons with '30 Rock', while her next big screen appearance will be in raucous comedy Sisters, opposite her friend and frequent colleague Amy Poehler. Fun Tina Fey fact: her real name is Elizabeth - "Tina" comes from her middle name, Stamatina.
Prior to her break-out success with Bridesmaids (which she both co-wrote and starred in), Kristen Wiig's gloriously deadpan comic style and talent for quiet sarcasm was usually confined to scene-stealing appearances in films like 'Ghost Town', 'Adventureland' and 'Forgetting Sarah Marshall'. Happily, since 'Bridesmaids', she's graduated to lead roles and demonstrated a dramatic ability that's the equal of her comic talents. Her latest comedy-drama 'The Skeleton Twins' (out now on DVD) affords her the opportunity to showcase both sides simultaneously, while her hilarious lip-synch duet with co-star Bill Hader was a strong contender for the funniest scene of last year.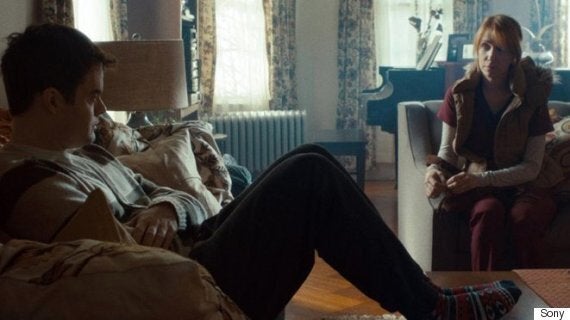 Kristin Wiig has to reconnect with estranged bro' in 'Skeleton Twins', costarring with Bill Hader
As the creator, producer, writer, director and star of HBO's hit TV series 'Girls', 28 year old Lena Dunham has forged a reputation for fearlessness, both in the often excruciating darkness of her comedy and her willingness to appear naked on TV. Her influence on a new generation of female comedians is unmistakeable – her friend and fellow New Yorker Desiree Akhavan recently picked up "the next Lena Dunham" headlines for her indie comedy 'Appropriate Behaviour'. As for Dunham herself, she can currently be seen in season four of 'Girls', but it will be fascinating to see what she does next.
A bit like Eva Green, only funnier, there's a certain just-on-the-edge-of-crazy quality to Krysten Ritter's quirky comic performances, something that was showcased to the full in her sitcom 'Don't Trust The B---- in Apartment 23'. After paying her dues in a series of wisecracking best friend roles, Ritter gained critical acclaim with a dramatic turn in Breaking Bad and has recently landed the lead role in Marvel's upcoming superhero show 'AKA Jessica Jones'. Hopefully, Jessica Jones will take full advantage of her exceptional wise-cracking ability, but in the meantime, she can next be seen in comedy-drama 'Listen Up, Philip', opposite Jason Schwartzman.
Best known in the UK for her role as super-enthusiastic parks director Leslie Knope on TV's 'Parks & Recreation', producer / writer / star Amy Poehler's career mirrors that of her friend and former 'Saturday Night Live' co-star Tina Fey, right down to the publication of her recent best-selling memoir, 'Yes, Please'. Poehler's next project is providing the voice of Joy, an emotion in the head of a young girl, in the imaginative animated feature 'Inside Out', while BBC Four are due to screen the fourth series of 'Parks and Recreation' later in the year.
Throughout the '00s, Melissa McCarthy made a name for herself with a series of likeable supporting turns on TV shows like 'The Gilmore Girls', but it wasn't until her breakthrough performance in 2011's 'Bridesmaids' that she became a bona fide movie star. A gifted physical comedian and an accomplished ad-libber, McCarthy's recent projects ('The Heat', 'Tammy', 'Identity Theft') have seen her develop a slobbish and frequently foul-mouthed, but essentially good-hearted screen persona. Her upcoming projects include the 'Ghostbusters' reboot with fellow Bridesmaid Kristen Wiig and the lead role in comedy caper 'Spy', opposite Jason Statham and Jude Law.
An accomplished stand-up and comic actress, Jenny Slate had her breakthrough role last year in writer-director Gillian Robespierre's 'Obvious Child', in which she plays a potty-mouthed comedian who books an abortion on Valentine's Day after a one-night stand goes wrong. Combining disarming honesty and vulnerability with an infectious energy and razor-sharp comic timing, Slate has proven herself a talent to watch and her as-yet-unannounced next film project is eagerly anticipated. Until then, UK audiences hungry for more Slate action can look forward to her hilarious performance as Jean-Ralphio's equally obnoxious sister Mona-Lisa Saperstein in season five of 'Parks and Recreation'.
Though best known for her delightfully po-faced role as George Michael's Christian girlfriend Ann Veal on TV's 'Arrested Development', Mae Whitman has carved out an impressive career as a voice artist, most notably as the titular fairy in the 'Tinker Bell' movies. However, she looks set to enter an exciting new phase with a star-making comic performance in the upcoming teen movie 'The DUFF', in which her character is mortified to discover that everyone thinks of her as the Designated Ugly Fat Friend. She can also be seen as Amber Holt on the TV series 'Parenthood', based on the 1989 comedy.
Ellie Kemper established her sweetly naïve, relentlessly cheerful comic persona with her endearing role as receptionist Erin Hannon in the US version of 'The Office'. She had a supporting role in 'Bridesmaids', but was disappointingly under-used in the film, with her performance crowded out by co-stars Kristen Wiig, Melissa McCarthy and Rose Byrne. Happily, her brand of infectious goofiness has found the perfect outlet in writer-producer Tina Fey's new Netflix comedy 'Unbreakable Kimmy Schmidt', in which Kemper plays a young woman adjusting to life in the 21st century after spending 15 years in an underground bunker with a doomsday cult.
Between 2009 and 2014, Alison Brie was in the unique position of co-starring simultaneously in a hit TV comedy and a hit TV drama, thanks to her dual roles as perky overachieving Annie Edison on 'Community' and 60s housewife Trudy Campbell on 'Mad Men'. She's subsequently turned in scene-stealing support performances in movies (most notably sporting a pitch-perfect English accent in 'The Five Year Engagement') and has recently graduated to lead roles with the upcoming romcom 'No Stranger Than Love'. Though still awaiting a breakthrough role, Brie definitely feels like a comedy A-lister waiting to happen – just watch her Speakeasy videos on YouTube.
'The Skeleton Twins' is out now on Digital HD and DVD. Watch the trailer below...