Fashion photographer Nick Knight and close friend of Lee Alexander McQueen speaks to HuffPost UK Lifestyle about why McQueen's work holds such a fascination for the public.
"Lee had a great ability to speak very strongly and with a lot of truth about how he felt and that's why his work makes a connection with so many people," explains Knight. "You're seeing somebody's heart and soul."
To celebrate the McQueen retrospective, Knight has created a striking new tableaux using unseen photography captured backstage at the iconic 2004 American Express: McQueen Black Event.
The image has been broken into four sections, featuring 35 models including Kate Moss, Naomi Campbell, Gemma Ward, Lily Cole and even McQueen himself.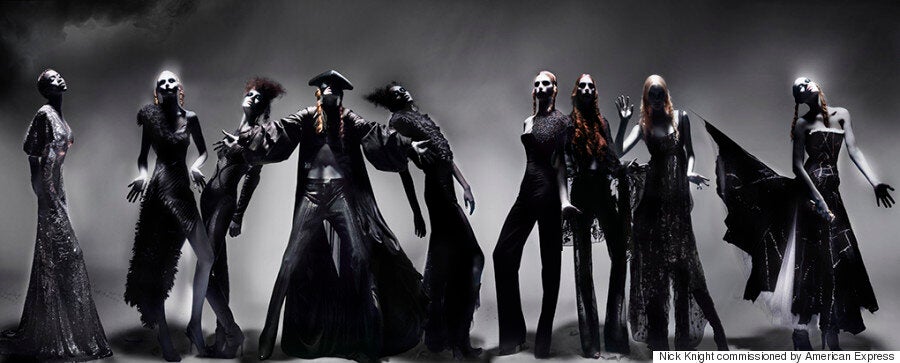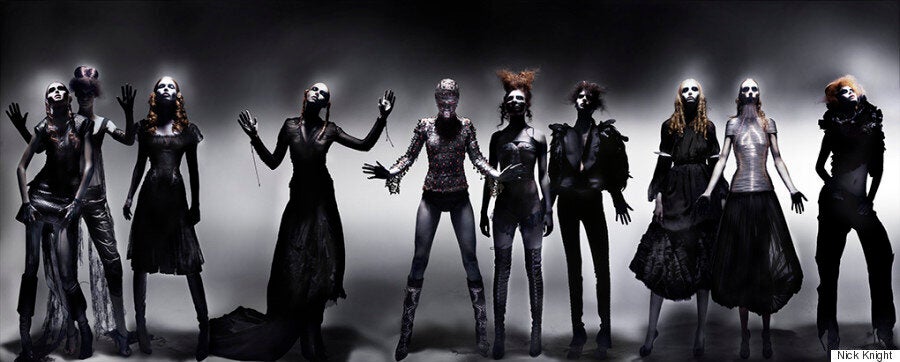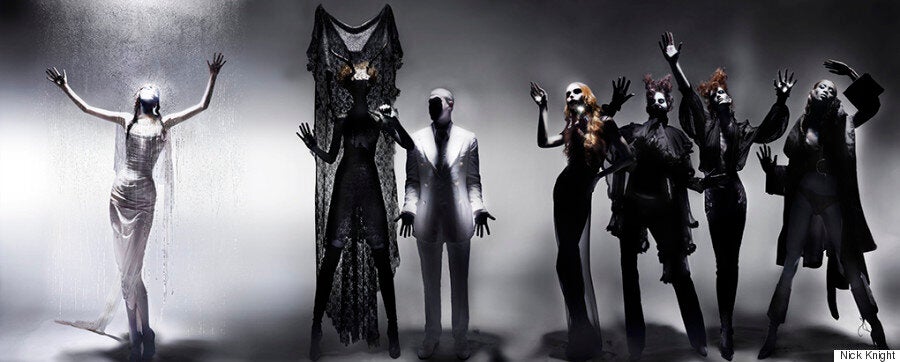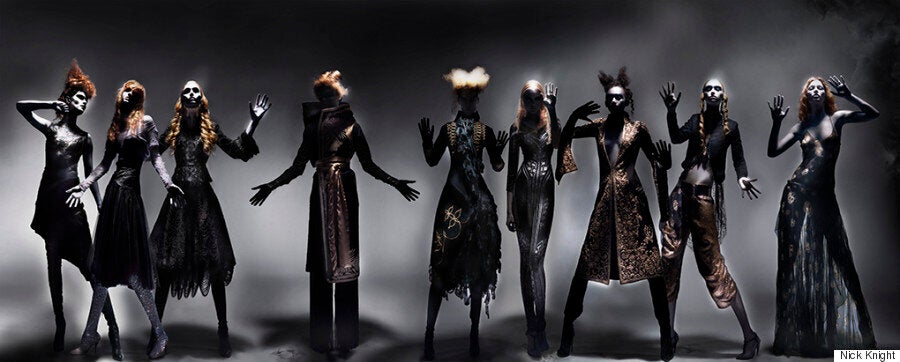 "It's tricky working by myself on an image that I know Lee and I would have worked on together," says Knight. "I'm very aware of what he would like and what he wouldn't, so in some ways I've been cautious. But we've created what I hope will be considered a very beautiful and incredible image.
"The idea behind the McQueen Black Event was that the models were trapped, so I think, like a lot of Lee's work, it was autobiographical.
"One of the first images I did of Lee showed his head exploding like the person in the film Scanners, because he said that was how he felt.
"Then later I did an image of him for Talk magazine, which was him in a padded cell hanging in chains from his own flesh. If you think about what that's saying in retrospect, you realise those weren't just images he was creating because he enjoyed doing something exciting, they were actually quite truthful about how he felt about life and about the industry and his position within it.
"So the Black image I've created also has that element to it. There's a feeling that things don't make sense; life isn't easy to understand. So I think that this is an important image and I'm very pleased that with AMEX's help we've been able to bring it to life."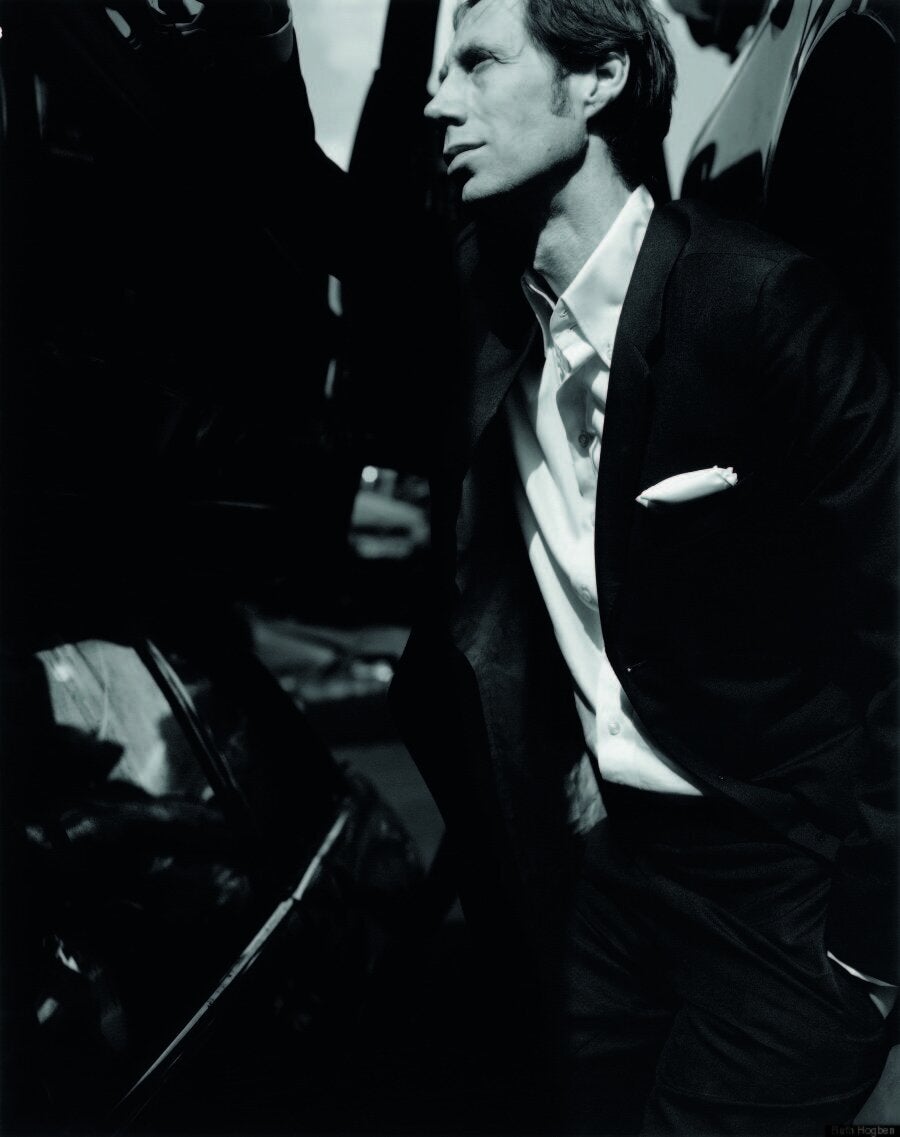 Before moving to its current home in the Victoria and Albert museum, the Savage Beauty exhibition was on display at the Met in New York, where Nick reports it drew an eclectic crowd.
"There were people waiting in the queues around the block to try and get in and they weren't just fashion students," says Nick. "There were a lot of ladies and men in their fifties and plumbers. Everybody wanted to see it, because it touches something within you.
"It's relevant to everybody, because it is an artist of our time speaking from the heart and that's actually quite rare. People are touched by the authenticity of the voice, they can tell it's not corporate, not in some way doctored, not polite.
"This is an important exhibition. It's like the treasures of Tutankhamun back in the 70s, one of those exhibitions that a generation had to see. Savage Beauty certainly has a similar sort of feel to it. It is quite incredible when you see the work and the vision."
Knight was drawn to McQueen's designs from the very first time he saw them.
"Our friendship started rather strangely to be honest," says Knight. "I'd seen Lee's clothes, as people like Camilla Nickerson who I worked with a lot for American Vogue, would bring in a rail of clothes that we were shooting and there'd be these incredible items on the rail and I'd say, 'Fantastic Camilla, what are these?' And she'd say, 'Oh they're from this new young designer who I think is really brilliant, Alexander McQueen.'
"But we would never shoot them of course, because they didn't carry advertising and that's not how those magazine worked. So that's how I first discovered Lee's clothes.
"Then one Christmas I got a fax out of the blue from Lee saying: To Nick, Love Lee, Happy Christmas.'
"That same year, there was a rather nice Christmas party, but Lee - like myself - didn't particularly like parties. I was leaving early and he was sitting at a table looking grumpy, so I went over and said hello and we just started from there.
"He was a likable looking chap. For all intents and purposes he looked like an East End skinhead and I had basically spent a lot of my youth being part of those sort of groups. You liked him when you first saw him. He had a very dirty laugh and a twinkle in his eye."
"We started working on images for the Venice Biennale and from then every possible opportunity we had to work together we'd try and grab it. Every season, every platform, whatever magazine or exhibition, or whatever it would be."
It was a penchant for pushing boundaries that cemented Knight and McQueen's close working relationship and friendship.
"An awful lot of fashion and business is very dull," explains Knight. "People are very conservative in lots of ways, sexually or politically, and Lee wasn't.
"He wanted to do things differently from everybody else. He wanted to do things that felt much more exciting to work on. Much more experimental and more dangerous.
"For the first image that we worked on together he wanted to submerge a girl in sewage. So I said to him, 'Well you probably can't put a girl in sewage, no girl's going to do that'.
"Eventually we persuaded him that perhaps a better thing to do - both visually and in terms of the reality - was to put a girl in molasses. Molasses is a very black, very treacly liquid and of course when you lie a girl in a swimming pool of molasses she doesn't sink, she stays on top. So then you have to push her into it, and once you do that you can't get her out! Those are the sorts of shoots Lee wanted to do.
"Another time he said, 'Lets' make the face of an angel out of living maggots', which nobody else was coming to me and suggesting. When he wanted to do something it was always really exciting and it was always pushing the boundaries of what was technically possible and of what people would accept as beautiful.
"Lee would find beauty in places where other people wouldn't look."
"We did a story together for Dazed and Confused magazine featuring people who all had very strong physical disabilities. People with pronounced curvature of the spine, or missing a leg. People who just happen to have a body shape that had never before even been considered in the same light as a fashion model. They'd never been included in our society's vision of what's considered beautiful."
Knight admits that while he and McQueen may not have intentionally set out to challenge standards of beauty, they were frustrated at the conservatism that was rife in fashion photography.
"Fashion is supposed to be an industry that's forward thinking and is about breaking the rules, but it can be awfully conservative at times. Most of the images we see of women are really misogynistic.
"Women are cast into a very tight role, as being this 18-year-old blonde girl with one shape of body and that's it. And that's not how Lee saw women at all. He saw women in a much bigger and much more exciting way, and I think that the images we created helped push the boundaries of what is included in society's vision of what's beautiful.
"There's a lot of bigotry and there's a non-comprehension of the power of the image and what one can do with it. Those are the sort of issues both Lee and I had to deal with growing up in the fashion industry. So although we didn't set out to change the rules, both Lee and I saw beauty elsewhere."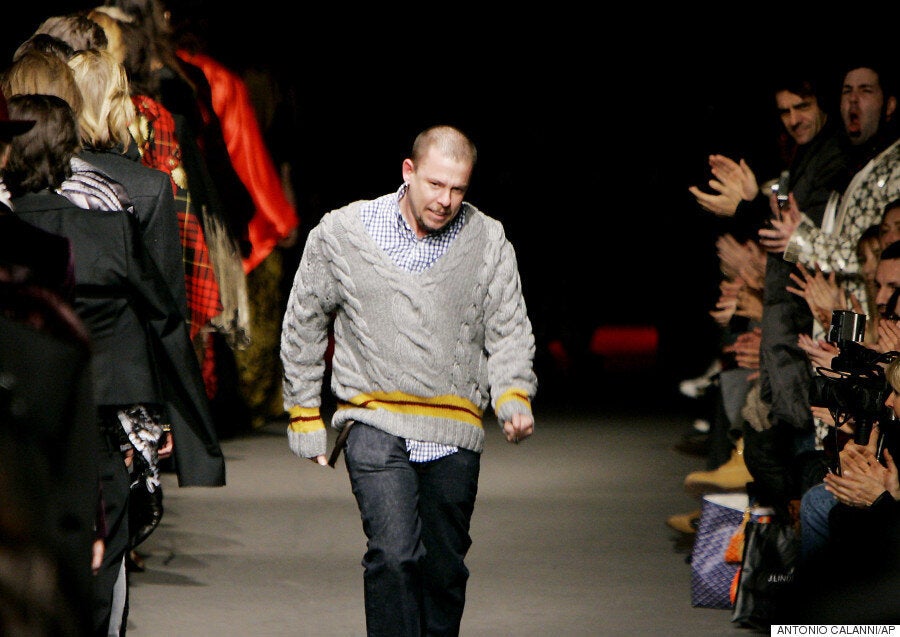 So does Knight think that standards of beauty have changed since he and McQueen began working together?
"I think things have moved on," he says. "I'm quite an optimist and I do think how women are depicted in fashion is changing. It's not there by any means, I mean the racial diversity on the catwalk is still awful; the number of people over the age of 22 on the catwalk is pretty bad. But I think we will get there.
"Unfortunately too often the ideas of beauty don't come from the designers so much as from the corporate and marketing people who want to make money from the designers.
"Of course, a lot of fashion imagery is for selling fashion, but it should also be about changing people's minds and changing people's attitudes; making people desire things they didn't see or didn't understand before.
"We've been through a series of financial crises in the last 30 years and they always provoke the same reaction. People always think they've got to be safer in their imagery.
"But there's no point in being boring and conservative. Creating an advertising campaign that's just full of pretty girls looking pretty is a waste of your money. Nobody cares, nobody looks. You need to have people who create imagery that is challenging.
"People enjoy being scared, that's why horror films are so popular, but when was the last time you saw an advertorial in any of the big magazines that scared you? That made you think, fuck I can hardly look at that image it's so terrifying?
"Of course there is some fantastic stuff that's coming out but you need to have brave magazines. You need to have magazines who aren't in the pocket of the advertisers, which sadly with the way the system works at the moment that's often the way it is. Magazines need to stay a float, so they have to become commercial. That's not healthy for fashion.
"You need voices like Alexander McQueen or John Galliano or Martin Margiela or Gareth Pugh to be changing these things. We need to be supporting these guys.
"I mean for Christ's sake, where's the support for Gareth Pugh at the moment? One of our most brilliant designers. I'm not in any way saying he's similar to Alexander McQueen, but if you're looking for somebody with an exciting vision."
"Both Lee and I believed very firmly in fashion as an art form and sadly it isn't always considered that way - certainly not in the mainstream media. I remember looking through the Observer at the height of London's Men's Fashion Week and there was not one mention of it, but there was six pages devoted to the Tour de France.
"Fashion suffers a little bit from the same ignorance that contemporary art used to suffer from back in the 80s, when people used to look at it and say: 'Oh it's half a shark, why's that art?' You don't hear that dialogue about contemporary art anymore, but you do still hear it about fashion.
"But I think the Savage Beauty show is proof of the opposite of that: Proof that fashion is incredibly important and an art form."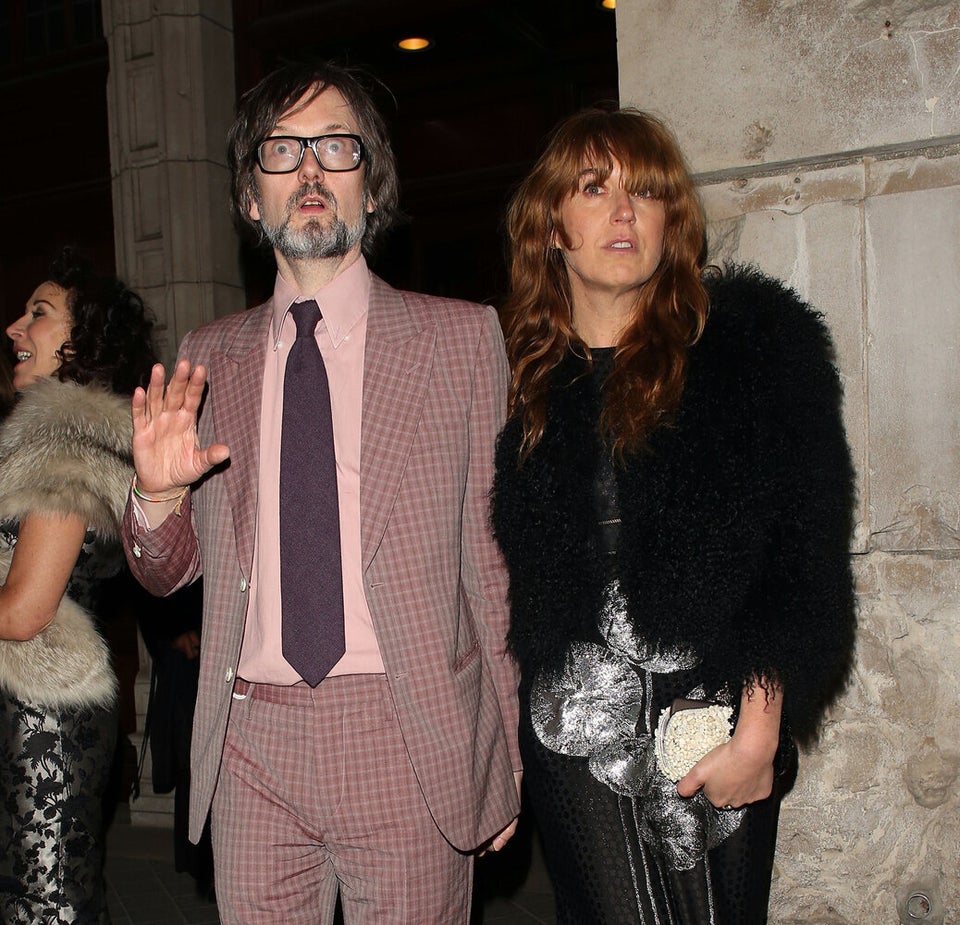 Alexander McQueen: Savage Beauty Launch
Related