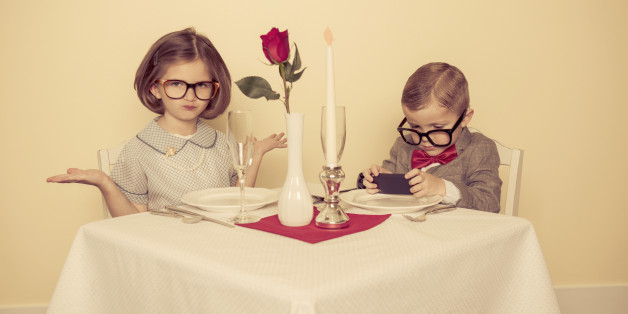 Andrew Rich via Getty Images
Forget faking a phone call or pretending you're ill, there are far more inventive ways to end a terrible date.
When @HashtagSkirmish asked people on Twitter to reveal how they would #DitchYourDateIn5Words, the good people of the internet responded with some hilarious answers.
Try these tactics at your own peril...
Hold on, my ex's calling. #DitchYourDateIn5Words

— Privileged Matt (@WeLikeFreedom76) March 19, 2015
#DitchYourDateIn5Words I Don't Want No Scrubs

— Chai Hard (@ElSangito) March 19, 2015
I love you, want kids? #DitchYourDateIn5Words

— Ted Mosby, Professor (@tedmosby) March 19, 2015
#DitchYourDateIn5Words I am a freelance writer.

— Charles Davis (@charliearchy) March 19, 2015
I bought us matching #Crocs. #DitchYourDateIn5Words

— Lee Radziwill (@LeeRadziwill) March 19, 2015
"Just a thing I do.."

#DitchYourDateIn5Words @HashtagSkirmish @hdtorch pic.twitter.com/fvoaB0AA95

— Orlando Jones (@OGOrlandoJones) March 18, 2015
#DitchYourDateIn5Words I slept with your mum..

— Tom Syndicate (@ProSyndicate) March 18, 2015
Let me introduce my mother.... #DitchYourDateIn5Words

— Doc (@DocDarnell) March 18, 2015
Is your sister seeing anybody? #DitchYourDateIn5Words @HashtagSkirmish

— Tae San (@TysonFromABQ) March 18, 2015
My favorite group is Nickelback. #DitchYourDateIn5Words

— KillerBunnyFooFoo™ (@PolitiBunny) March 18, 2015
I left the cat alone .... #DitchYourDateIn5Words

— James McVey (@TheVampsJames) March 18, 2015
#DitchYourDateIn5Words You looked different through binoculars.

— Malav Karkar (@MalavKarkar) March 18, 2015
It's a no from me #DitchYourDateIn5Words pic.twitter.com/zTAPjKPxmz

— Nats World (@Nat_fried) March 18, 2015
SEE ALSO:

People Share Their Brilliant Thoughts On #WhatIsLoveIn4Words

'Hand Me My Selfie Stick' And Other #5WordDealBreakers That Will Ruin Any Date