The campaign to get Jeremy Clarkson back presenting 'Top Gear' has cranked its publicity up a notch, by driving a tank to the BBC headquarters.
SEE MORE:
Immediately after it was announced last week that Jeremy Clarkson had been suspended from the BBC show after what was described as a 'fracas' with a producer, a petition was set up to protect his place on 'Top Gear'.
It didn't take long at all for the petition to accrue tens of thousands of signatories, and as it nears its one millionth, campaigners clearly thought it was appropriate to up their game - and send a tank with a fake Stig riding it to the BBC offices.
Tank at BBC pic.twitter.com/voIEbhBuKp

— alex thomson (@alextomo) March 20, 2015
Photos from the scene show the faux Stig brandishing a box with 'One Million Signatures' written on the side, to mark the petition's upcoming landmark, while another shows him sitting on the cannon of the tank.
How very Cher-esque of him.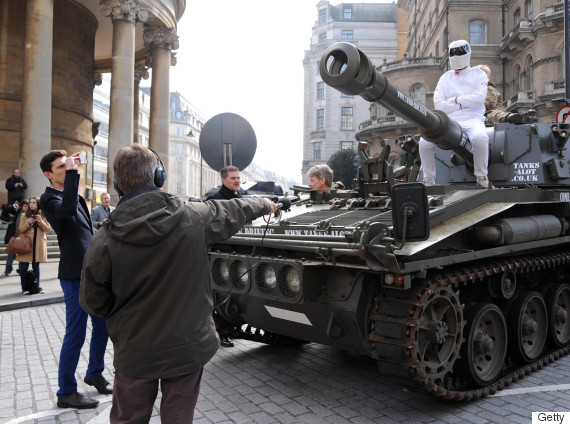 The fake tank arrives at the BBC
The BBC insisted on Thursday that they would be giving no further comments about Jeremy's suspension from 'Top Gear', issuing a statement which reads: "Following last week's suspension of Jeremy Clarkson, Ken MacQuarrie is now considering the evidence and will report to the Director-General on his findings next week.
"Once this has been considered, we will set out any further steps. The BBC will not be offering further commentary until then."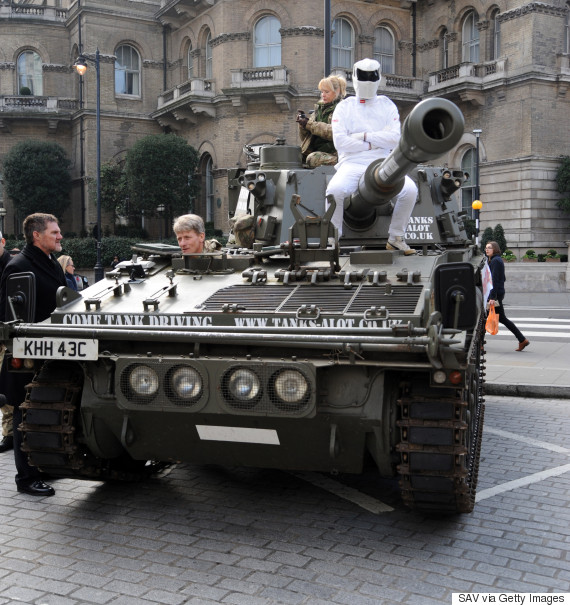 The 'Stig' outside the BBC
However, the chances of them taking him back may well be smaller than ever, after Jeremy launched an expletive-laden rant about the BBC on Thursday, branding them "f***ing b******s" who "ruined" 'Top Gear'.
LIKE US ON FACEBOOK | FOLLOW US ON TWITTER