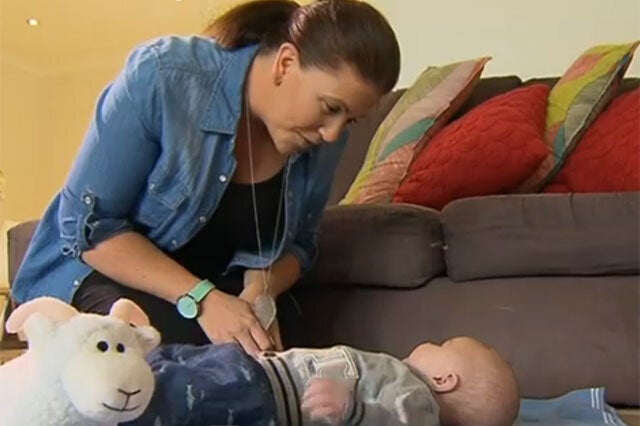 Samantha Stuhlener gave birth to her first baby, a boy named Levi, in January. After the birth, Samantha and her husband Nick enjoyed some precious time together as a family in St Vincent's Private Hospital, Australia.
But soon afterwards, the parents were horrified to discover that they had spent 45 minutes with another couple's baby because a nurse had mistakenly brought another child to them from the 'settling room'.
The error happened despite both babies wearing the correct identification wristbands in the settling room - but a nurse failed to cross check the IDs.
St Vincent's Private Hospital in the Melbourne suburb of Fitzroy called the mix-up 'extremely regrettable' and insisted that neither of the mixed up babies had been held or fed by the other parents.
However, the Stuhleners believe they haven't been told the full truth and are demanding to see internal notes of the incident.
Recalling the mix-up in January, Samantha told Australia's 7News: "I said 'what's happened, what's going on?' And she said, 'you didn't have Levi, you had somebody else baby'."
And despite an apology and $500 worth of gift vouchers from the hospital – which were initially mistakenly addressed to the parents of the other baby in the mix-up – the couple remain suspicious because they claim St Vincent's Hospital staff refuse to show them the incident report.
Dad Nick said: "That's all we've wanted, to actually see what's written in the incident report and what actually happened."
St Vincent's CEO Ian Grisold said: "It is extremely regrettable and our staff and myself feel gutted by the incident. We unreservedly apologise and take full responsibility for the incident."
He added: "While both babies had correct identification name tags attached at all times and both babies remained in their correctly named cots at all times, the staff member did not disturb the parents and check their name bands.
"The second baby remained in the night nursery.
"When it was realised by staff that there was a baby in the incorrect room, the still sleeping baby was instantly removed from that room and returned to its parents.
"At no time was either baby picked up, held or fed by anyone other than their parents."
The Stuhleners say they've been in contact with the parents of the other child who they say have 'also been left traumatised'.
Samantha says the incident made bonding with Levi – now three months – more difficult.
She said he was 'unsettled' for the first few weeks of his life and didn't take to breastfeeding.
St Vincent's Private Hospital has changed its procedures to try to avoid a repeat of the mistake.
Two staff members are now required to cross check both the mother and baby's name tags when moving babies to and from the settling room.
See how Australia's New 7 covered the family's story here...