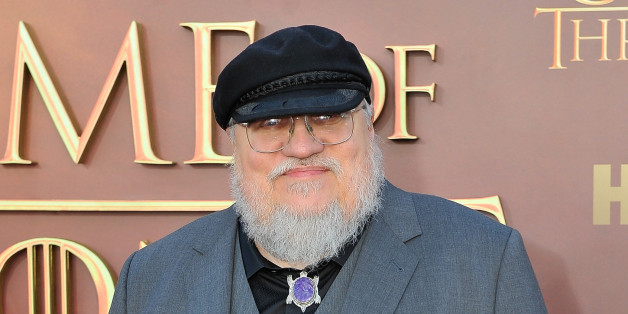 Steve Jennings via Getty Images
'Game Of Thrones' fans have been sent into a frenzy, by the author's latest website update - a full chapter from his upcoming book 'Winds Of Winter'.
Obviously, the extract includes a number of spoilers and it's written from the point of view of Sansa Stark.
The 6,000 word piece comes just days after it was revealed that George won't be working on the next two seasons of the HBO show, as he's too busy finishing the actual books.
The writer is currently pouring all of his efforts into finishing his sixth book, and the released of a new extract has sent Twitter into meltdown:
NEW TWOW CHAPTER YEAHHHHHHH http://t.co/hJQfrWBPOx

— groug (@moonwalkmcfly) April 2, 2015
I want more 😩 http://t.co/fPwd2e6EC1 @GameOfThrones #Alayne

— Kate Mendoza (@katecmendoza) April 2, 2015
OMFG A NEW #WindsOfWinter CHAPTER HAS BEEN RELEASED I'M ABOUT TO LOSE IT JUST LOST IT http://t.co/7upjClnamN

— Nicholas Graham (@NickGraham) April 2, 2015
A new Sansa chapter from The Winds of Winter?!?!!! Thanks for an early birthday present @GRRMspeaking! #GameofThrones #WindsofWinter

— Joe Ballard (@JoeBallard88) April 2, 2015
You can read the chapter on George RR Martin's website here.
The 'Game Of Thrones' cast recently gathered in the UK for the series five premiere at the Tower of London.
While there, they revealed what fans can expect from the new episodes of the show.
LIKE US ON FACEBOOK | FOLLOW US ON TWITTER