Sometimes you need to fight fire with fire, but most of the time it's far more effective to extinguish that fire with a whole lot of kindness.
That's exactly what one company did, by turning homophobic leaflets into confetti that supports gay marriage in Ireland.
The product, called 'A Shred Of Decency', was created by Dublin-based paper shop Daintree and advertising agency Rothco.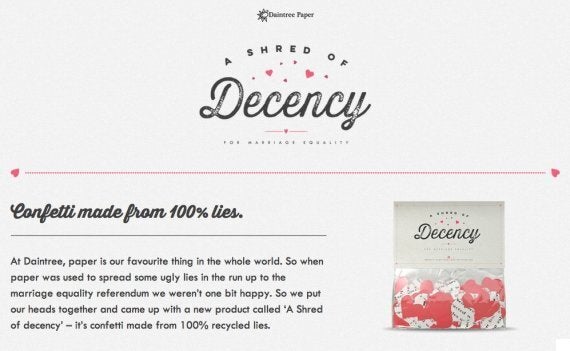 "When paper was used to spread some ugly lies in the run up to the marriage equality referendum we weren't one bit happy," they write on their website. "So we put our heads together and came up with a new product called 'A Shred of decency' – it's confetti made from 100% recycled lies."
Confetti is available to buy for €5 with all proceeds going to Yes Equality, an organisation supporting gay marriage ahead of Irish Marriage Equality Referendum on 22 May.
Speaking to HuffPost UK Lifestyle, a spokesperson from Rothco explained: "We became aware of elements of the extreme No Campaign stirring up controversy by spreading flyers which contained disgusting and factually incorrect statements such as, 'They [homosexuals] will still contract cancers earlier in life.'
"We decided that this was an opportunity to take this awful literature and turn it back on itself, to help create a positive message in the run up to the referendum."
To show your support, why not buy some or tweet your support using the #ShredOfDecency hashtag.
The support has been flooding in on Twitter.
Related