Would you be more inclined to wear a condom during sex if it felt better than wearing nothing at all?
Scientists from the University of Wollongong are aiming to create "the next generation condom" that will do just that.
The team are currently experimenting with hydrogel materials to create a condom that can self-lubricate and deliver a small dose of Viagra to the wearer.
"Our original idea was just to try to prove that an original material could replace latex," lead researcher Robert Gorkin told ScienceAlert.
"We were starting from scratch, we had an idea that these new materials would have the same properties as rubber with a nicer feel, but we weren't sure if they had the right properties for a condom.
"The early indications are that the materials are strong enough and actually do prevent against the transfer of small biological molecules."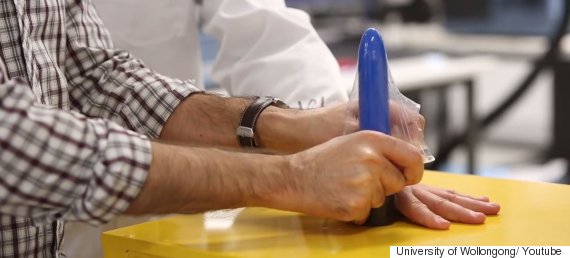 The team began research on the new condom after the Bill and Melinda Gates Foundation issued a statement calling on scientists to create a condom that people would actually want to use.
"Condoms have been in use for about 400 years yet they have undergone very little technological improvement in the past 50 years," the statement reads.
"We are looking for a Next Generation Condom that significantly preserves or enhances pleasure, in order to improve uptake and regular use."
The University of Wollongong team has received one of 52 grants from the Bill and Melinda Gates Foundation to complete their research.
Each individual project has reportedly been awarded initial funding of $100,000 (£68,000).
But not everyone is convinced by the team's idea.
SEE ALSO:

10 Common Questions People Ask About Sex (And The Answers)

Dr Christian: 'The Embarrassment Of Not Being Able To Perform In The Bedroom Could Be Killing Men'
Speaking to HuffPost UK Lifestyle, sex and relationship expert Tracey Cox raised questions as to whether self-lubricating, Viagra-administering condoms are really the way forward.
"I'm all for any research that will result in condoms that feel better and encourage more use. And like the sound of a condom that actually feels better than not wearing one. If indeed this can be achieved," she said.
"But we have condoms that are lubricated already, so don't imagine 'self lubricating' would really make a great deal of difference.
"Delivering a small dose of Viagra is also pointless, since the drug takes around half an hour to work and men who need it use it to get an erection - which is needed before you can put the condom on.
"A lot of men ejaculate within five minutes so it wouldn't have time to work. I guess there could be some benefit if the man used condoms regularly and the drug built up in his system."
The next step for the University of Wollongong researchers is to test their prototype.
They've recently teamed up with Swinburne University of Technology in Melbourne to conduct biometric testing that will be able to measure the body's response to the material.