Waitrose staff in Bromley South have filmed their own version of 'Uptown Funk'.
Around 40 employees star in the the parody video that unintentionally features shockingly bad lip-syncing and out-of-time dance moves.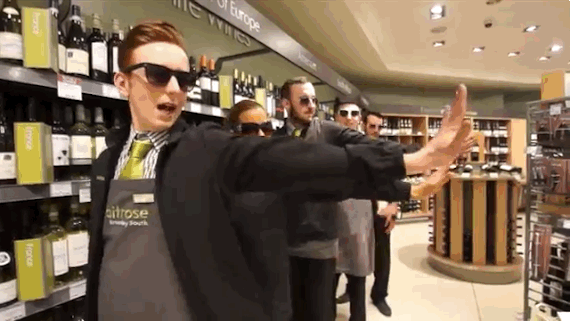 The YouTube clip that took three weeks to shoot at the Masons Hill store, was filmed for their annual general meeting and operations manager Kerry Farwell-Stacey told the News Shopper "It was a bit of fun, every year each branch holds its own AGM and in order to make this as interesting and engaging as possible this year we decided to do a spoof music video."
We've seen many 'Uptown Funk' parodies since Mark Ronson and Bruno Mars released the song last year but we take our o̶v̶e̶r̶a̶l̶l̶s̶ hat off to the staff at Waitrose for this cheesy version. Well done guys.