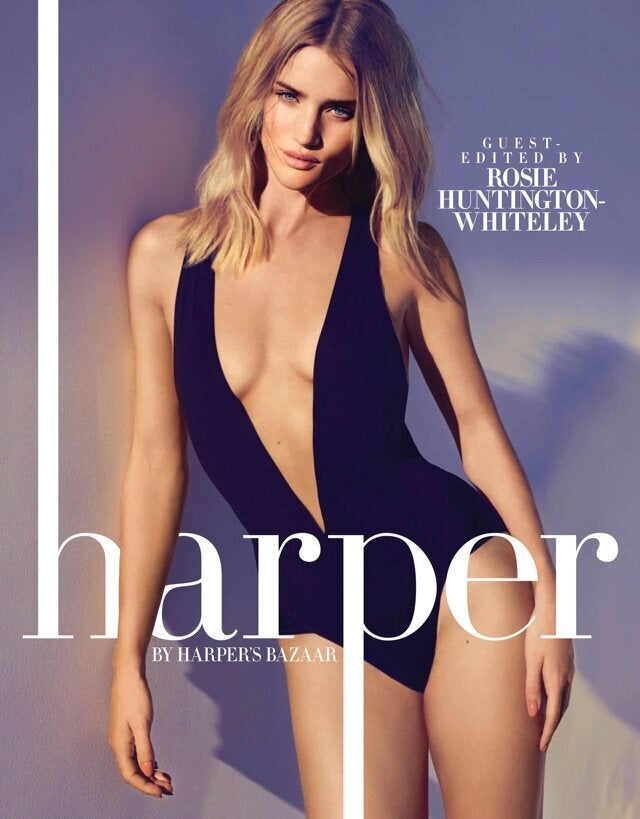 The model guest-edited harper by Harper's Bazaar, the magazine's supplement in the May Beauty Issue, and inside, the star of the upcoming Mad Max shares a sneak-peek into her life and poses for a fashion shoot.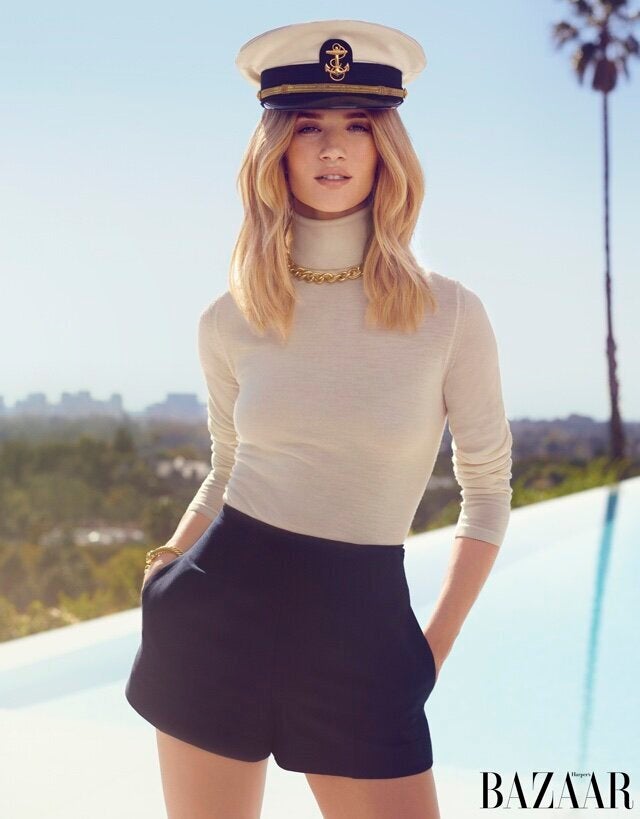 Rosie, of course, looks amazing in a series of outfits, ranging from a plunging black swimsuit, to high-waisted shorts worn over a roll-neck jumper and finished with a sexy sailor hat.
During the accompanying interview she chatted about everything from her favourite food (cheese, pasta, fries, WHAT?) to her love of fashion, and even lets us in on her airport style secret.
Check out the highlights below...
On going out and her life in LA:
"I love going to restaurants for dinner and out for drinks afterward. I love savoury food - cheese, bread, pasta, French fries, bacon, pigs in a blanket! (I could just eat a plate of pigs in a blanket, and I'd be happy.) LA is a daytime city. There's a lot of hanging out at home and going out to dinners. There's no nightlife. In New York or London, it's the opposite, as those cities come alive at night. Occasionally there will be a super-late night, which might end at a house party or in a nightclub; I love dancing and having a laugh with my mates. When I'm traveling I always put an outfit on every time there's going to be paparazzi at the airport, and when I get on the plane I change and snuggle down."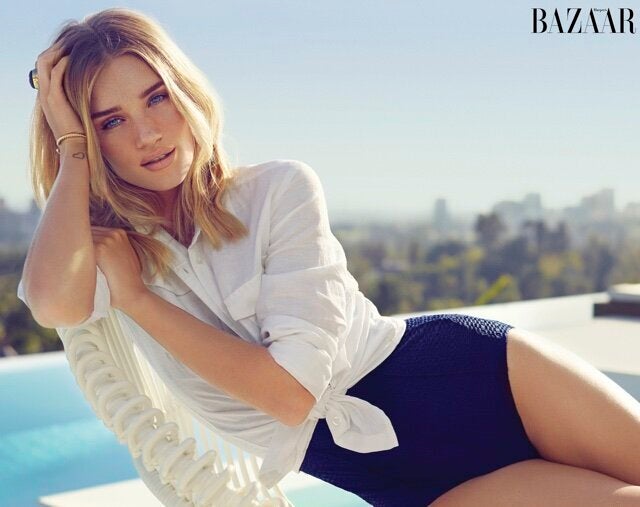 "The only rule I have with anyone who works with me is that they have to have a positive, upbeat, no-nonsense attitude. I like to surround myself with people who are bright, hardworking, and talk no BS! Most shoots I'm working with people I've known for years, so it's always good energy. To be a successful model, you have to be a team player and a trouper. Your reputation is everything in the entertainment industry, and everyone talks. I love this saying, "It takes a lifetime to build a reputation and a single act to destroy it." You're lucky if you get an opportunity, and if you do you've got to make the best out of it. You've got to show up and work hard."
In her editor's letter for harper by Harper's Bazaar, Rosie writes:
"As a little girl, I always dreamed of working in the fashion industry. My bedroom walls were covered with photographs ripped from my favourite magazines.
"I knew I wanted to be part of the creative process, what goes into making an image. (I had my heart set on fashion college once I graduated from school.) Happily, I didn't have to deliberate: When I was 16, on a trip to London during my school holidays, I was asked to join a modelling agency.
"I was sure they'd got it all wrong; my foray into modelling would be only a few weeks long. Now, 12 years later, I have seen the industry inside and out - the best and the worst - and experienced all the things I wished for when I was young. It's something I'm ever grateful for. You're only as good as your opportunities allow in life.
"So my guest-editing of this issue of harper feels rather full circle. I love passing along my tips on beauty and fashion, and I really love creative-directing shoots, putting together a dream team, and overseeing everything it takes to produce beautiful images. I hope you enjoy the magazine as much as I've enjoyed bringing it to life."
The main May issue is covered by another stunning model Anna Ewers, looking like a golden goddess and oozing a definite Brigitte Bardot vibe.
LOVE ROSIE? Our gallery is packed full of more pics of the model :
Related