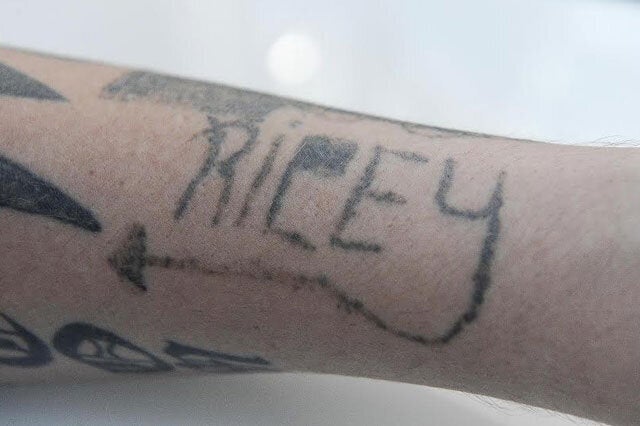 A drunk dad used a DIY tattoo gun to etch his son's name onto his arm but spelt it wrong – twice!
Tom Moffatt, 27, bought the £70 ink gun from the internet.
But when he used it, he spelt four-year-old Riley's name as 'Ricey' on his arm then tried to scratch out the 'C'.
He then tattooed 'Sony boy' onto his hand instead of 'Sonny boy'.
Tom said: "I'd never picked up a tattoo gun in my life and I got told by my brother not to do it at the time but I just didn't listen.
"Now, my family are always saying 'you're an idiot, Tom' and there are plenty of jokes at my expense from my mates. I can't repeat what they say about it.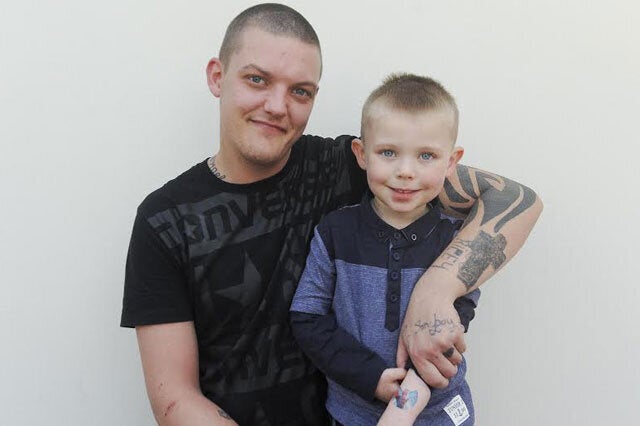 "I have to hide my arm when I go for job interviews. Even Riley has started to notice and points at those tattoos and says 'Daddy, I don't like those ones'. It's a nightmare."
Now Tom is facing the long and expensive task of having the botched art work lasered off.
He has just had his second session at a local tattoo removal salon. He added: "I've got a long journey ahead of me."
The dad claims the internet firm is to blame for his disaster and is now calling for tougher controls on unregulated tattoo work.
Tom, from Tameside, Greater Manchester, said: "We want to try and get a campaign going so people like me can't just go out and buy a gun with no questions asked.
"You shouldn't be able to go on the internet as a 15-year-old Joe Bloggs and buy one and I want to get the message out there that tattoos should only be done by professionals."
Tattoo remover Maria Patricia said: "There needs to be more regulation. People don't realise the dangers of the buying of tattoo guns and ink off the internet.
"Tom did just that and had to Google the instructions of how to use it.
"It might seem like a laugh with mates when you're drunk but it's not easy to fix the damage and people can be left with scarring if they're not careful.
"We're all for tattoos but people need to be aware they can wreck lives and make it difficult to get jobs."