The nominees for this year's Ivor Novello Awards have been announced, and there are a number of chart-topping artists in the running for the awards.
Sam Smith, George Ezra and Clean Bandit will be fighting it out for the PRS for Music Most Performed Work prize, while the latter have also scooped a nomination for the Best Contemporary Song accolade, for their hit 'Rather Be'.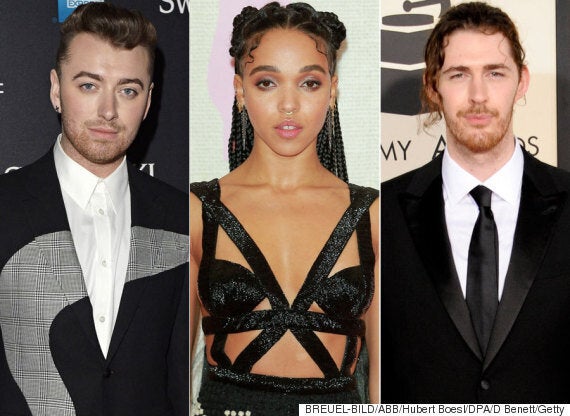 Sam Smith, FKa Twigs and Hozier - who'll triumph on the 21 May?
Clean Bandit have stiff competition in the Best Contemporary Song category, in the form of FKA Twigs and Alt-J.
The Album Award will also be a tightly-fought contest, as Wild Beasts, Royal Blood and Bombay Bicycle Club are all battling it out.
However, as the BBC notes, because Tom's credit is worth less than 15%, he isn't up for the Ivor Novello.
The Ivor Novello awards ceremony will take place in London on 21 May.
See the full list of nominees below…
Best Song Musically and Lyrically

'Above The Clouds of Pompeii' - Written by Andrew Davie

Performed by Bear's Den

Published in the UK by Communion Publishing

'I Forget Where We Were' - Written and Performed by Ben Howard

Published in the UK by Warner/Chappell Music Publishing Ltd

'Take Me to Church' - Written by Andrew Hozier-Byrne

Performed by Hozier

Published in the UK by Sony/ATV Music Publishing – The Evolving Music Company

Best Contemporary Song

'Every Other Freckle ' - Written by Thomas Green, Joe Newman and Gus Unger-Hamilton

Performed by alt-J

Published in the UK by Kobalt Music Publishing

Rather Be - Written by James Napier and Jack Patterson

Performed by Clean Bandit featuring Jess Glynne

Published in the UK by Universal Music Publishing – Salli Isaak Songs / Sony/ATV Music Publishing

Two Weeks - Written by Tahliah Debrett Barnett and Emile Haynie

Performed by FKA Twigs

Published in the UK by BMG Chrysalis / Universal Music Publishing

PRS for Music Most Performed Work

'Budapest' - Written by George Ezra Barnett and Joel Pott

Performed by George Ezra

Published in the UK by BMG Chrysalis

'Rather Be' -Written by James Napier and Jack Patterson

Performed by Clean Bandit featuring Jess Glynne

Published in the UK by Universal Music Publishing – Salli Isaak Songs / Sony/ATV Music Publishing

'Stay With Me' - Written by James Napier, William Phillips and Sam Smith

Performed by Sam Smith

Published in the UK by Universal Music Publishing – Salli Isaak Songs – Method Paperwork / Naughty Words Ltd – Stellar Songs Ltd – Sony/ATV Music Publishing

Album Award

'Present Tense' - Written by Thomas Fleming, Ben Little, Christopher Talbot and Hayden Thorpe

Performed by Wild Beasts

Published in the UK by Domino Publishing Company

'Royal Blood' - Written by Michael Kerr and Ben Thatcher

Performed by Royal Blood

Published in the UK Warner/Chappell Music Publishing Ltd

'So Long, See You Tomorrow' - Written by Jack Steadman

Performed by Bombay Bicycle Club

Published in the UK by Imagem Music

Best Original Film Score­­­­­­­­­­­­

'71' - Composed by David Holmes

Published in the UK by Universal Music Publishing

'Mr. Turner' - Composed by Gary Yershon

Published in the UK by Universal Music Publishing

'The Boxtrolls' - Composed by Dario Marianelli

Published in the UK by Warner/Chappell Music Publishing Ltd

Best Television Soundtrack

'The Honourable Woman' - Composed by Natalie Holt and Martin Phipps

Published in the UK by Imagem FTV / Du Vinage Publishing

'The Mill' - Series 2 - Composed by Samuel Sim

Published in the UK by Du Vinage Publishing / Sony/ATV Music Publishing

'The Suspicions of Mr Whicher – Beyond the Pale' - Composed by Edmund Butt

Published in the UK by Bucks Music Group / Imagem FTV