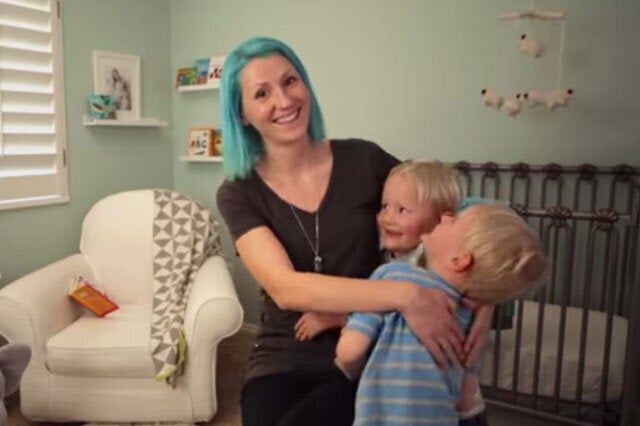 A down-to-earth and refreshingly honest parenting video has taken the internet by storm as ordinary mums and dads reveal the 10 things they wish they'd known before having a baby.
The video – which has been viewed more than 1 million times on YouTube – cuts straight to the chase with 10 nuggets of wisdom that every new parent will relate to, summed up perfectly with the gem: "Everything you do will be right to somebody and wrong to someone else...do whatever works for you and don't Google anything."
The heart-warming video, created by Extra Space Storage, interviews mums and dads as they sit in their babies' nurseries about the trials and tribulations of having children.
Story continues after video...
It begins: "So, you're going to have a baby. You're gonna get a LOT of advice. Ignore 90 per cent of it."
However, don't ignore the advice given by the parental sages in the video itself.
One mum says: "Don't care one ounce what other people think of you."
Anda nother pearl goes: "Be prepared for the unexpected."
One mum advises: "There is a chance that your baby could go flying down a hill and then roll out of her car seat onto the road. Which may have happened!"
In at number 5, is 'making room for the baby.'
As one perplexed dad explains: "Crib, changing table, car seat, stroller...two strollers actually. He has his own room. He's 5lbs and he has his own room. I don't even have my own room."
Number 4 is 'hold onto their stuff.'
Holding up her little 'un's baby-gro, one mum wistfully proclaims: "You're going to look back and say 'I wish those times would come back', so keep 'em; don't give them all away."
Number 3 states matter-of-factly: be grateful for your kids.
As one dad puts it: "All the poop and snot and screaming and crying and fighting. Worth it. All of it. Totally worth it.'"
And at number 2 is a piece of advice we should all take heed of: Don't be too hard on yourself. It's all just spilled milk.
As for number 1, it's all about the love: "Be prepared to love something more than you ever thought you could."