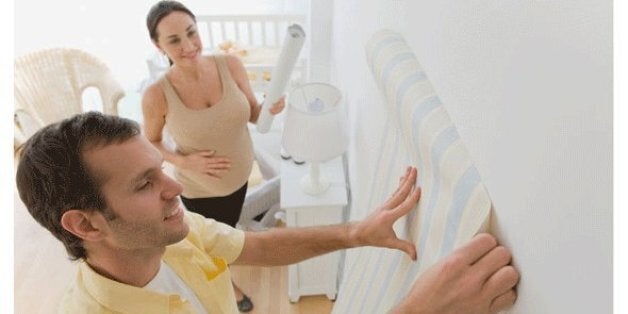 By now you'll have waved goodbye to your old waistline as you'll have a pretty good sized bump. Have you felt any odd 'tightening' sensations in your bump? You might be experiencing Braxton Hicks contractions (named after the 19th-century gynaecologist who first identified them), which are really limbering up exercises performed involuntarily by the uterus in preparation for the birth.
It might seem a bit soon for a warm-up, but you'll experience these 'false contractions' from around now until the end of pregnancy. Don't worry that you're going into early labour as the sensation is quite different.
Your baby is continuing to put all his efforts into laying down fat stores. Weighing in at 300g (around 10.5oz), the crown-to-rump length is now around 18cm (7in), which is about the same as the height of a Penguin Classics paperback.
Your baby could be swallowing up to 500ml of amniotic fluid per day by this stage and an ever-maturing digestive systems means some sugars are being absorbed by your baby's gut. The production of blood cells is being taken over by the bone marrow. It's a job previously performed by the liver and spleen and is a significant development.
Some mums-to-be go right off the idea of sex in pregnancy, viewing their bodies as being solely for the purpose of growing their babies; others find themselves less inhibited than ever before and ready for some unprotected good times.
Some partners love the feeling of having had their fertility confirmed; others find the whole idea of pregnancy a total turn-off when it comes to sex.
It's important to keep talking: discuss how you both feel, and encourage honesty from your partner. You can still hold hands, cuddle and enjoy closeness, even if that's all the intimacy you can both enjoy for now.
This could be the time to start thinking about decorating your baby's nursery. Government advice (and the advice of leading babycare experts) is to keep your baby in your room with you for the first six months of life, so there's no immediate rush to get everything sorted, but it might be helpful to stagger the expense, and you'll probably have more energy at this stage than you'll have later in pregnancy or during the early months of parenthood.
If you're not sure whether you're having a boy or a girl, stick to unisex colours and themes. Read on for our top decorating tips:
• a neutral shade or pale yellow or green make lovely nursery colours
• choose wall stickers or a frieze that could appeal to either sex
• try to position the cot away from a window or radiator and definitely never ever let a blind cord dangle
• don't be tempted into buying expensive cot bumpers: some childcare experts feel that cots are safer without them
• a baby's bedding should be made up of cotton sheets and cellular (holey) blankets, and you should never use a duvet or pillow in the first year of life as it's thought they could be a factor in cot death
• a room thermometer is a great idea for a nursery, as is a baby listening device.