When Marcia Young heard her neighbour had died of cancer leaving behind nine-year-old twins she didn't hesitate before stepping in to look after them.
Young, 56, a mum-of-two from East London, wasn't particularly close to Anne Meskell, who she describes as a "neighbour rather than a friend".
But when Meskell died suddenly of ovarian cancer, Young offered a home to her twins Eve and Nathan.
The twins were conceived as a result of egg and sperm donation and Meskell hadn't left a will stating where they would go in the event of her death.
"I feared they would be separated," said Young, who works as a civil servant. "When social services told me Anne hadn't made a will stating who would look after her children, I stepped in."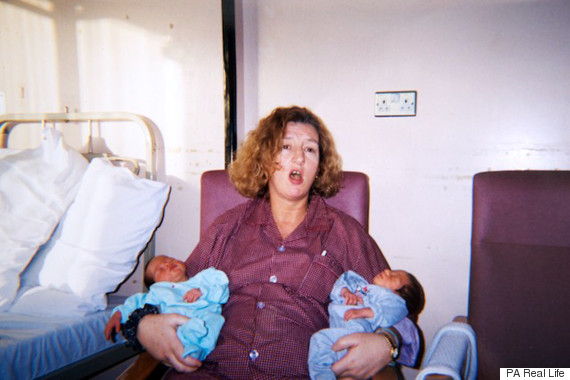 Anne Meskell with Eve and Nathan
"At first I thought it would be until another family member came forward, but that never happened," she added.
"So I vowed to look after Eve and Nathan like they were my own. I didn't want them being taken away or separated."
Now the twins live with Young – who they call Auntie Marcia – and consider her children Jasmine, 22, and Clarke, 23, to be their sister and brother.
The neighbours first met in 2002 when Clarke was 10, Jasmine was nine and the twins were just two years old.
Over the next six years they would stop and chat briefly when they saw each other outside their homes, but otherwise were not close.
In 2008 Meskell told Young she had not been feeling herself.
'"She said her tummy had hurt for about six months," Young recalled. "It didn't sound like anything too serious at first.
"She was told it was indigestion but it didn't seem to get any better.
"She asked me to look after the kids for her, while she went to the hospital. Then she came home and said she had ovarian cancer."
Meskell made the decision not to tell the twins and underwent an operation to remove the cancer and began chemotherapy.
Concerned for her neighbour, Young stepped in to help out with her children.
"She seemed so exhausted with all the treatment, I wanted to relieve her of some of the pressure and let her relax for a bit," Young said.
"Looking after her children for a few hours a day was nothing in comparison to what she was going through.
"Anne didn't have anyone else. Her mum was in her 80s and housebound, but I was happy to step in and help her out."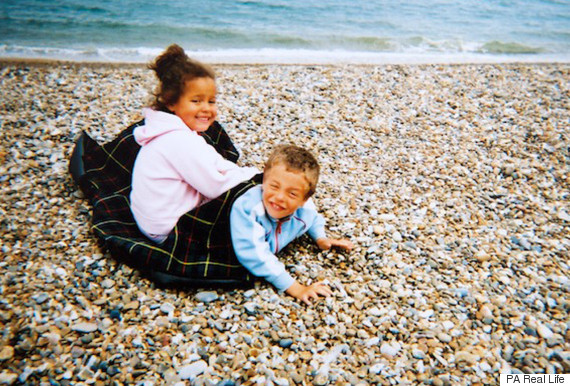 Eve and Nathan
In 2010 Meskell needed a hysterectomy. The operation went well but afterwards her condition suddenly deteriorated.
Young said: "One day I went round and she'd lost so much weight it suddenly dawned on me how ill she was.
"She acted like she didn't need any help, but she did. She was so strong. I think she was in denial."
The following year, Eve and Nathan's school asked to speak to Young, as they were concerned the children were not being taken care of properly,due to their mother's ill health.
"They'd heard I was helping Anne so they called me in to talk to me," Young said. "I wondered if Anne was struggling to look after them at home, and if they were fending for themselves.
"I was asked if anyone could look after the children if Anne died.
"I said Eve and Nathan could stay with me until another home was found for them.
"In the past Anne had said she wouldn't allow anyone to take care of her kids, but she seemed to warm to me.
"There was nothing she wouldn't do for them. Her only wish was to make them happy."
In June 2011 Meskell died, aged 55.
"As I sat and hugged Eve and Nathan they asked me what was wrong with their mum, but I didn't know what to say," Young said.
"I took them to see Anne's mum but she was too frail to look after them. So I stepped in.
"At first I was worried about them getting used to life without their mum. But they were fine, and chatted away their memories of her."
In 2012 Young became Eve and Nathan's legal guardian.
She said: "We're one big happy family, the kids are like siblings and I hope Anne is looking down, pleased with how we're all doing."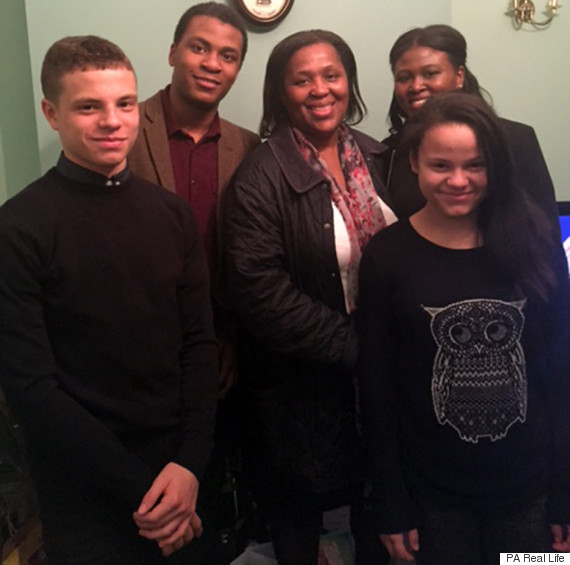 Marcia Young with her family, including twins Eve and Nathan
Eve, 14, said: "We'd always wanted an older brother or sister so moving with Jasmine and Clarke was a dream come true.
"But it was strange when we finally did, because we'd just lost our mum.
"Adjusting to life without her was hard at first, but having everyone around us, made thing easier. Living with Marcia is different because back home, when mum was ill, we were left to do a lot for ourselves.
"We'd be able to stay up late and watch TV. But Marcia had rules we had to get used to.
"But we really respect her for it, now we know she was just looking out for us. We've been living with them nearly four years now and we're really thankful to all of them."
Jasmine said she's proud of her mum and loves her new siblings.
"We didn't want them going in to a home," she said. "I was so proud of mum going over to Anne's house to help her. It wasn't her job, she wasn't getting paid but she did it anyway.
"When they moved in we had to share rooms, though we all pulled together to make it work.
"Mum's done a really great job raising the twins, they've learnt a lot from her, and she's integrated them in to our family."
Young is supporting Target Ovarian Cancer's 10K Walk in October at Queen Elizabeth Olympic Park, London.