Sheridan Smith has won praise from fans and critics, for her portrayal of Lisa Lynch in the BBC drama 'The C-Word'.
Sunday night's one-off show was based on Lisa's blog 'Alright Tit' and her subsequent book, in which she detailed her battle with breast cancer, with a refreshing candid style.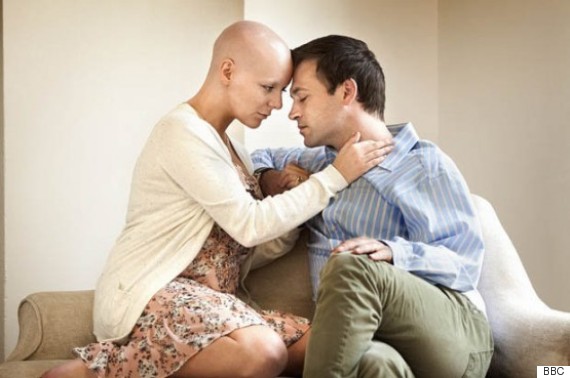 Sheridan Smith and Paul Nicholls as Lisa and Pete Lynch
With Sheridan as Lisa and Paul Nicholls as her husband Pete, 'The C-Word' was certainly a tear-jerker, and fans and critics alike have praised the drama's cast, and the wonderful woman whose honesty inspired it all.
The Guardian's TV critic writes: "I did plenty of that, welling up. Also laughing. 'The C-Word' is very sad and very funny and very honest and – most of all – very human. Ace from Sheridan Smith, demonstrating – yet again – that right now there isn't really anyone to touch her for turning words in a script into breathing, warm-blooded human life. For nailing it, basically."
"'The C-Word' was a weepy, of course, but not just a weepy. It was also a very warm, honest account of a woman enduring, and sometimes transcending, a terrible and still too common fate," adds The Independent.
A number of fans also took to Twitter to discuss the show:
The C Word with @Sheridansmith1 was amazing. Everyone should watch it. Cancer does not discriminate it effects everyone in some way or other

— Jane De Weert (@Manxsweetcheeks) May 4, 2015
Just watched the C word, @Sheridansmith1 sublime once again, by far the best actress out there at the moment

— jack shore (@jack_B_shore) May 4, 2015
Must say how brilliant, sad and touching The C Word was, acting was brilliant, think another BAFTA for the wonderful @Sheridansmith1

— Stuart Austin (@stuartaa23) May 4, 2015
Watched The C Word last night @Sheridansmith1 - what an amazing performance. Such a heartbreaking story

— alison (@kittykat_x) May 4, 2015
Sheridan then thanked everyone for their support, writing:
Emotional.So overwhelmed by your amazin support,thank u.Love u all!😘I know she'll be watching with us🌟

TEAM @LisaLynch 🙌💖🍸

Here goes...

— Sheridan Smith (@Sheridansmith1) May 3, 2015
Sheridan shaved her head for the role, and the actress previously admitted that she found the task daunting.
"It did upset me a little bit at the time, but it's just hair – it'll grow back," she stated. "And 'The C-Word' is about such an amazing woman.
"Everyone is affected by cancer and I lost my eldest brother to it, so although of course you feel like you've lost a bit of your femininity, I feel it's the least I could do."
'The C-Word' is available to watch now on BBC iPlayer.
LIKE US ON FACEBOOK | FOLLOW US ON TWITTER