Rebecca Adlington's due date is still four weeks away, but the Olympic swimmer has already got her nursery ready for her first baby.
Adlington, 26, has shared a YouTube video of herself giving a tour of the room, which is kitted out with a cot, changing table, car seat and a nursery chair (that is currently home to her pet dogs).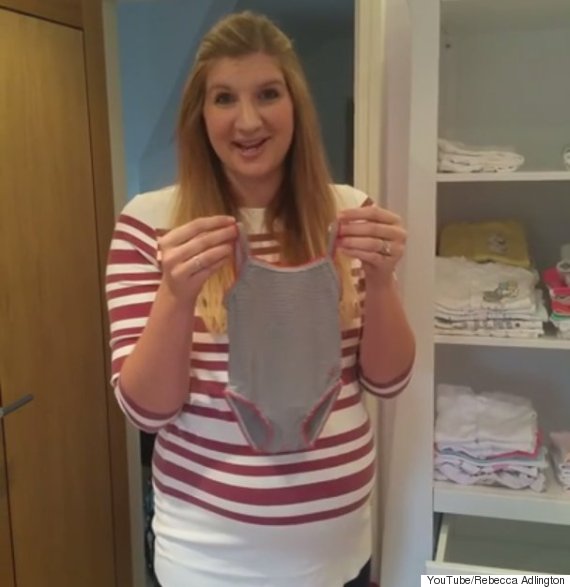 Adlington is so organised she's even divided the wardrobe into sections for when her daughter reaches different ages, and of course, she's already bought her first swimming costume.
"We had to," she says. "We can't wait to take her in the pool, so that's exciting."
There's just one thing missing from Adlington's nursery.
"The last thing that we need is her, we need her to come out," jokes the expectant mum.
"We're just so excited, the house is finally done, we've only got four weeks left of the pregnancy, so hopefully it will go nice and smoothly and now we can't wait to meet her. We're super excited."
SEE ALSO:

Adorable Underwater Babies Photos Hold An Important Message About Water Safety
Adlington shared the video on Twitter where it racked up 80 favourites in just a few hours.
She also received a lot of comments telling her not to wish away the last few peaceful days before she becomes a mother.
@BeckAdlington Patience Becky you will be glad of the peace now!! Hope you are building up your sleep because you will need it All the BEST

— Russell Keeble (@russellkeeble) May 6, 2015
@BeckAdlington What a beautiful nursery! Love her little swimming costume 😀 Enjoy the last few weeks of your gorgeous bump #PreciousDays x

— Jo Ashlin (@josharpee) May 6, 2015
@BeckAdlington Ooh not long to go now then..make the most of the peace & quiet before the baby bomb strikes ha! Best wishes to U both anyway

— Kath Wilson (@katsitter) May 6, 2015
As well as few helpful lighting suggestions:
@BeckAdlington Recommend you put dimmer switch on the lights in there for the night feeds. Don't really want bright lights at 1am.

— Ian Bartholomew (@Ian_Bartholomew) May 6, 2015
Adlington and her husband, fellow swimmer Harry Needs, 23, found out she was pregnant shortly after their wedding in August last year and they've previously suggested the baby was conceived during their honeymoon.
"The due date is 4 June... so, yes, we must have conceived on the first day of our honeymoon in Venice," said Adlington.
Needs cheekily added: "But we're not the Beckhams - we won't be calling the baby Venice!"
Plenty more nursery decor inspiration to be found in the slideshow below: