Ruth Langsford has revealed that husband Eamonn Holmes didn't exactly get down on one knee when he proposed to her.
The 55-year-old, who married her 'This Morning' co-host in 2010, tells Woman And Home magazine that it was in fact all done via text message - and was actually rather romantic.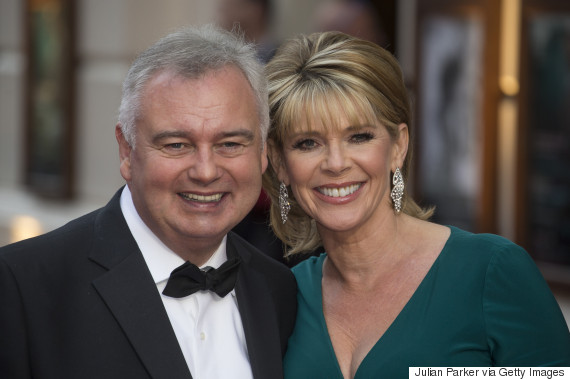 Emaonn Holmes and Ruth Langsford
"It was in 2010 and we were at the Cheltenham Races," she explains. "My side of the story was that I had noticed Eamonn had disappeared. But I was having a lovely time drinking champagne.
"Then when we were leaving, he said, 'Your phone is beeping, you've got a text!' I saw a message from Eamonn so I thought, 'Oh, he's sent me a saucy text!'
"I clicked on it and it was the most beautiful love letter and at the end of it, he had written, 'Would you please marry me?'
"We were being driven back at the time, and didn't know the driver, so I texted him back saying, 'Yes please!' We held hands the rest of the way, dying to get home."
*wipes tear from eye*
Thank you @womanandhome.....I'm a front cover girl!!! I'm even happier now! x pic.twitter.com/D6CnTGB0Nr

— Ruth Langsford (@RuthieeL) May 7, 2015
Ruth also revealed the secret to their happy marriage, and believes it's all down to accepting each other's differences.
"We know each other much more now than we did so we have both become more accepting of things that will never change," she says.
"I've accepted that he will always be late and make me late for things, and he's accepted that I will always be bossy."
Last month, Eamonn admitted Ruth had banned him from appearing on 'Celebrity Big Brother' after he was approached to appear on the Channel 5 show.
The 'This Morning' presenter revealed Ruth put her foot down and refused to let him take them up on their offer - because she doesn't want the nation to see Eamonn in his pants.
Speaking to the Daily Star, a self-confessed 'CBB' superfan Eamonn explains: "I have been asked to do 'Celebrity Big Brother', and I say to Ruth 'I don't think we can ignore this now.'
"She is like: 'That is not happening. I am not having people see what you're really like. You and your underwear.'
"It boils down to my underwear why I am not allowed to go on."
For the full interview see the June issue of Woman & Home, on sale now.
LIKE US ON FACEBOOK | FOLLOW US ON TWITTER