No, they hadn't got their dates muddled, nor were they overeager to see this year's film offering, they had arrived early especially to see the Dior 2016 resort show.
A snapshot of the event posted on Dior's Instagram page showed Fanning and Kravitz shoulder-to-shoulder on the front row along with Australian actress Teresa Palmer and model Emma Ferrer, who is Audrey Hepburn's granddaughter.
The Palais Bulles (Bubble Palace), located in the South of France, provided a fitting setting for the resort collection which Dior's creative director Raf Simons has said was inspired by the French Riviera.
The models wound their way around the dramatic architecture in tweeds, pointed shoes and dresses with voluminous sleeves and nipped in waists.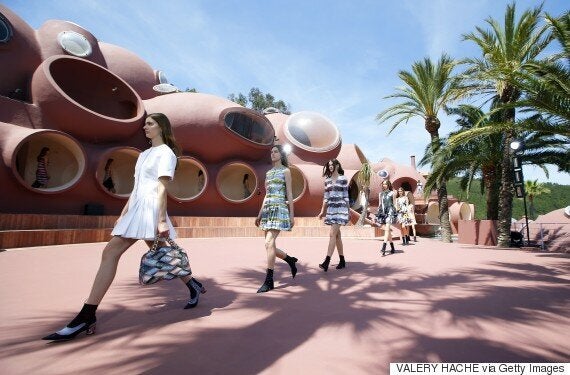 After the show Fanning told Bustle: "I liked the short flouncy dresses and skirts.
"I always look at things that are short because I'm a shorter girl and I can't wear the things those really tall girls wear… It's so great to be in this location. It's really kind of crazy."
Zara Wong fashion features and news director at Vogue Australia shared her view of the catwalk.
Palais Bulles owner Pierre Cardin was captured in this candid shot by Eric Wilson fashion news director at InStyle
Raf Simons, Marion Cotillard and Pierre Cardin by style.com's editor-at-large Tim Blanks