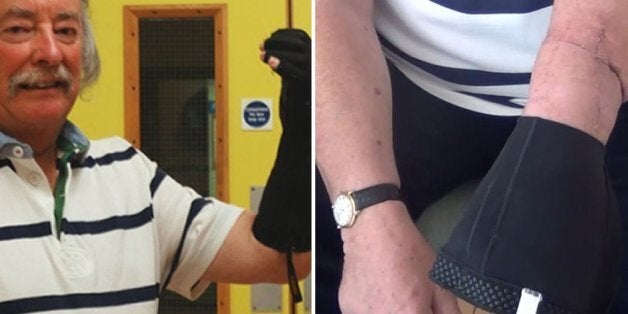 Quick-thinking neighbours managed to save a retired teacher's hand after he severed it while doing some home DIY.
Edryd Jones was cutting wooden batons while working on a bedroom ceiling at his house in South Wales when he accidentally cut his left hand off with a power saw.
His neighbours plunged the limb into a bowl of ice, and after a nine-hour operation doctors managed to reattach the 69-year-old grandfather's hand.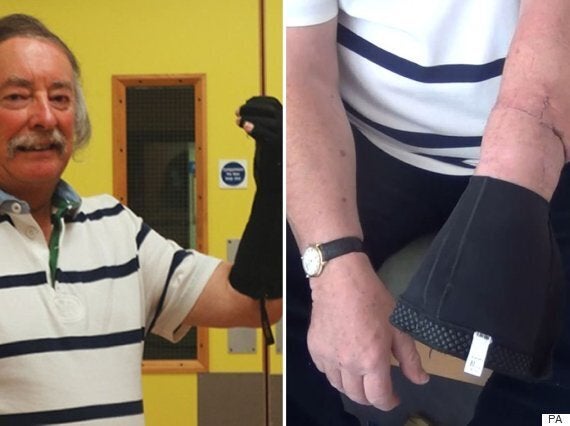 He can now move it and even drive again, and has donated £1,000 to the hospital that gave him back his hand.
Mr Jones, who retired nine years ago as headmaster of Llwydcoed Primary School in Aberdare after a 40-year career as a teacher, was at his home in Ferndale in the Rhondda Valley when the accident happened.
He said: "I didn't realise my hand had gone until I went to pick up a piece of wood and it wasn't there. It was on the floor. I thought I was going to bleed to death.
"There was nobody in the house with me so I went downstairs and walked to my neighbour's house. I knocked his door and he was absolutely shocked when I said, 'I've cut my hand off'."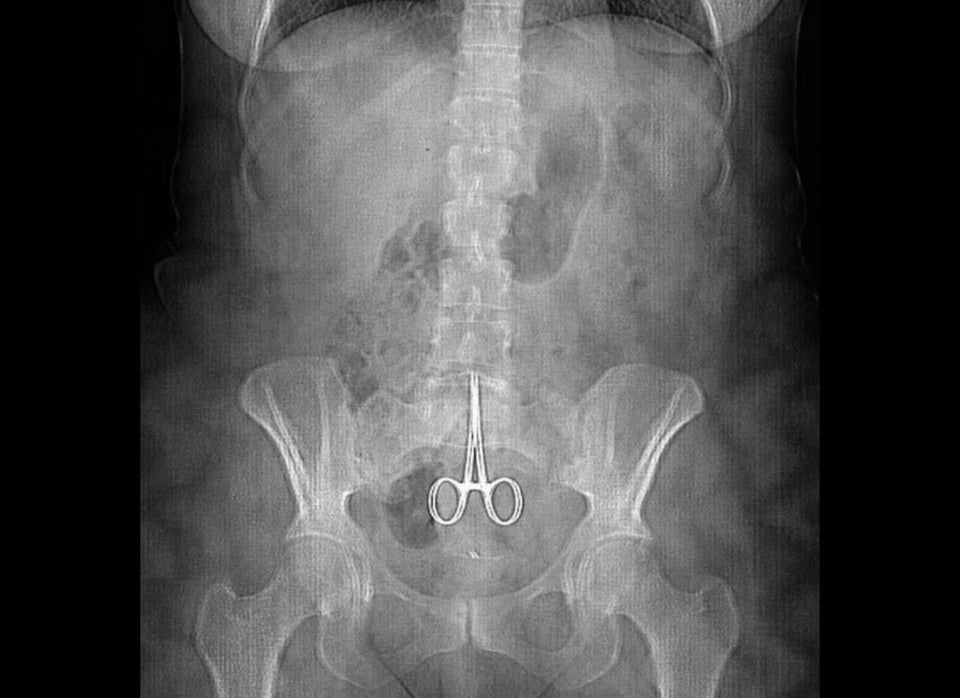 Wild X-Rays And Medical Photos
Neighbours called an ambulance and used a belt as a makeshift tourniquet to stem the bleeding, and one fetched a bowl filled with ice.
"Someone said, 'Where's his hand?' It was still upstairs in the bedroom.
"A neighbour had to go up and get it. My watch was still on the wrist so he took it off and brought the hand down and put it into the bowl of ice."
Mr Jones was taken to the Royal Glamorgan Hospital where surgeons stopped the blood flow and took X-rays, and he was taken to the Welsh Centre for Burns and Plastic Surgery at Morriston Hospital in Swansea.
Surgeon Andrew Bebbington fixed Mr Jones' bones together, while his colleague Dean Boyce repaired his nerves, blood vessels and skin.
He said: "I remember them cutting my fleece off and wheeling me into theatre. Then it was 12 hours later and I was waking up in the ward. They had reattached my hand and I could actually move one of my fingers a little."
After his first operation he spent 11 days at the hospital, and following another operation began physiotherapy.
Movement has now returned, he is back driving again and is even carrying on with his DIY.
He said: "I still have the saw but I won't be using it again. I'm back to using an old-fashioned hand saw. If I need help to hold something I use clamps. I've adjusted well."
He even has the watch he was wearing when his accident happened - but with a different strap.
Now he has presented the hospital that helped him with £1,000 to show his gratitude for their skill.
He said: "The accident happened eight weeks before Christmas. We usually buy each other gifts but we decided as a family that the greatest gift I received was to have my hand back.
"So we donated the money in recognition of what the hospital did for me. It was a miracle the team could have carried out such an operation.
"Everybody who has heard my story cannot believe it's possible. I take my hat off to the skills of the surgeons. Everyone in the hospital has been brilliant."
He added: "It has been traumatic, but I'm alive. I could have died. I've got my own hand back - and I've got a story to tell."
Mr Boyce said: "Edryd is doing really well, all things considered. He is already developing sensation and has good movement in his fingers. I'm very pleased with his progress."