However another picture has emerged which he probably does want you to see - a photograph showing His Royal Highness cementing relations with Britain's Muslim community.
Taken by renowned photograph Peter Saunders, the Prince of Wales chats with various members of Mosaic, the charity he founded to inspire young people from deprived communities to realise their potential.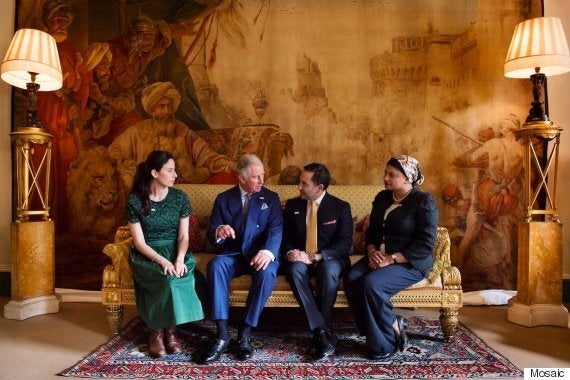 Prince Charles chats with Mosaic volunteers
The picture, which also features Asmaa Georgiou, CEO of theYusuf Islam Foundation and Mosaic mentor; Uzair Bawany, Mosaic Board member and mentor at Brondesbury College in London; and Ishreen Bradley, also a Mosaic mentor at Brondesbury College, was unveiled as part of an exhibition at London's Brunei Gallery.
The photograph forms part of Mosaic Ambassador Peter Sanders' 'The Art of Integration' exhibition and was shown for the first time at an exclusive Mosaic Associates event at London's Brunei Gallery on 12 May.
The photograph was taken in the garden room at Clarence House in front of a tapestry by the artist Horace Vernet.
The Art of Integration exhibition, a visual reminder of the role Muslims play and have played in British life, is supported by Mosaic which The Prince of Wales founded specifically to create opportunities for young people of all backgrounds growing up in the most deprived communities.
Peter Sanders said: "In 2000 I had photographed The Prince of Wales when he visited Islamia School. Never hurried, the Prince spent time with the children, making his visit a memorable experience for all.
"Fifteen years later with Mosaic now in its seventh year, I was invited to photograph him meeting with some of the Mosaic mentors. When I saw the room, I felt this tapestry depicting the Ottomans, Mamluks and Arabs' colourful past, and the antique sofa was the perfect setting. Again the Prince never rushed, engaged with his guests. All I had to do was capture the moment."Peter Sanders is internationally recognised as one of the world's leading photographers of the Islamic World. The Art of Integration shows an alternative picture of Muslims integrated completely within British society.
Peter Sanders' 'The Art of Integration' exhibition, which Mosaic is partnering, is open to the public at the Brunei Gallery, SOAS, until 21st June 2015.
Popular in the Community