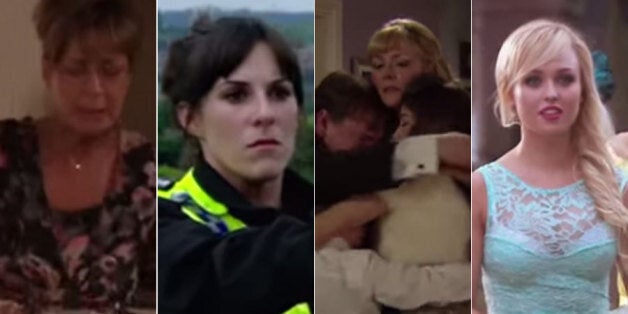 Award season may be long gone, but try telling that to the stars of the small screen, who'll be hitting the red carpet again at the British Soap Awards on Saturday (16 May).
Plenty of awards will be handed out on the night, including the highly-coveted Best Soap accolade - the question is, who deserves to win this year?
The goings-on in 'EastEnders' have kept us on the edge of our seats for the past 12 months. However, the TV Bafta panel didn't agree, and 'Coronation Street' pipped them to the post at last week's TV Baftas.
'Emmerdale' is also on the shortlist, thanks to storylines such as Katie Sugden's exit, while 'Hollyoaks' and its many dramas is also in the running.
The dark horse of the competition is daytime soap 'Doctors'. Despite receiving a nomination every year, the medical drama has never triumphed. Could 2015 be their year?
There's a lot to consider before deciding who deserves to win, so we've got together the most important scenes from the last 12 months.
Sadly, 'Doctors' clips aren't available online, but here are the other key soap moments you need to see before casting your vote…