London is full of beautiful places like Trafalgar Square, Embankment and Hyde Park. But what's the problem here? They're always so crowded you can't appreciate the splendour.
So here's a list of Instagram's favourite hidden spots in London, places to go for a drink or a walk with a view.
Madison's Cocktail Bar (with a pretty biblical view)
Avoid the hordes of confused tourists seeping into the Tate Modern and over the Millennium Bridge. Enjoy one of the grandest views London has to offer, all while sipping down a delightful cocktail.
The South Bank Centre's roof top garden bar
A lot of people like to think this is a top secret hidden spot, but it's really not. You need to show up early here on the weekends but it's a truly delightful place to watch the sun go down with a glass of Pimm's or an artisanal gin.
Horniman Museum & Gardens
If you fancy taking a trip down to Dulwich for the day, the Horniman Gardens are absolutely stunning, filled with ornate buildings and perfectly trimmed topiary that you just don't see anywhere else.
The Queen Of Hoxton roof top bar
Another not-so-secret hidden spot, Shoreditch's famous Queen of Hoxton has a wonderful roof top bar overlooking the City. Perfect for a few after-work drinks or a lazy Sunday.
Kensington Roof Gardens
You'd be forgiven for thinking this picture was taken in a remote oasis in the Indian desert, the harem of an Ottoman Prince or Claude Monet's garden, but no. These flamingos enjoy their home on a roof near High Street Kensington, alongside a premium restaurant and some out-of-this-world greenery, not to mention the stellar view.
Radio Roof Top Bar
Tucked away behind Somerset House, the Radio gives you a gorgeous panoramic view of some stunning buildings and the Thames, day or night.
Be warned - the inside is almost as excessively beautiful as the view outside.
The Bussey Building
In the middle of trendy and soon-to-be-gentrified Peckham, the Bussey Building stands tall with an excellent view from the roof. It's used for parties, bars, and roof top cinemas.
Frank's Café
As you'd expect from the oh-so-trendy Peckham, Frank's is on the top of a multi-storey car park, and it's still absolutely stunning.
Vista Bar
Fancy a cocktail and a view of Trafalgar Square? Want to watch in delight as the tourists get attacked by pigeons while you sip a Martini? Of course you do, and the Vista Bar on top of the Trafalgar Hotel is the perfect place to do it.
Gray's Inn Gardens
Situated in the heart of businessy Holborn, Gray's Inn Gardens offers an oasis of greenery in the midst of the dull, grey office blocks and seemingly constant stream of Pret A Manger stores.
On sunny days, office workers from the surrounding area will all descend on the glorious park for some well-deserved rays before they go back to the fluorescent lights and computer screens. Head on a weekend if you don't want to be too crowded.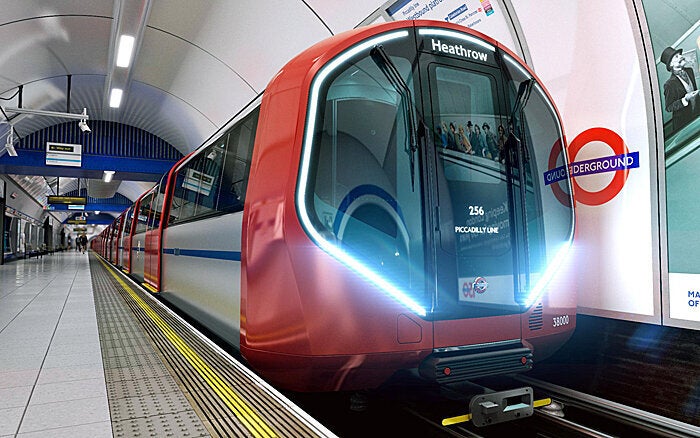 New London Underground Train 2022