A woman who has broken off three engagements has vowed to make it fourth time lucky.
Self-confessed "serial fiancée" Diane Hambley, engaged to Ray Garcia, 42, said this time she would "definitely make it down the aisle".
The 39-year-old compared herself to Coronation Street star Kym Marsh who is understood to have called off her fifth engagement earlier this month.
"Like Kym I keep getting engaged and splitting up with my fiancé," she said. "But this time it's definitely right."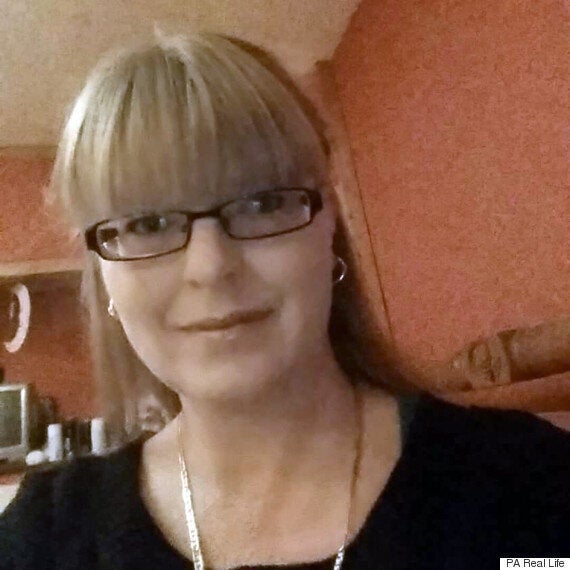 Miss Hambley – who once got engaged in a McDonald's restaurant with the ring presented atop a Big Mac – said: "This time it's different for me. He knows everything about me and there are no secrets in our relationship.
The mother-of-two, from Cwmbran, South Wales, told how Mr Garcia proposed to her in a Chinese restaurant.
Miss Hambley, a police radio dispatcher, is adamant the couple will get married.
She said: "Now I'm older I know what real love is and this is it."
Miss Hambley met her first boyfriend, Simon Smith, when she was 14. At 18, he was four years older that her and they met because he was a friend of her child minder.
"I really liked him," she says. "He was intelligent but had a silly side. We started hanging out together and he asked me out."
"We didn't sleep together until I was 16," she adds. "My family liked him and he moved into a caravan in our drive, but my parents wouldn't let me sleep in there."
When Miss Hambley was 17, Mr Smith popped the question. He proposed in McDonalds in Staines, Buckinghamshire, with a sapphire ring sat on top of a Big Mac box.
"I said yes but at that age it was more about showing off my ring," she says. "I broke up with him six months later because I knew I didn't want to be with him."
Aged 18, Miss Hambley was dared by her mother Elizabeth Hambley to call up a dating show on a radio.
She said: "We were working at this data entry company and there was a show we listened to where single people would call up and have a chat with the host.
"Then anyone interested could get in touch with them through the show.
"I wasn't about to lose a dare so I did it.
"I'm 6ft so I just talked about how hard it is to find a tall man.
"I got lots of responses, some of them crazy, but one of them sounded sweet."
She arranged to meet up with Alex Pring, then 22, who had got in touch.
She said: "Alex had three envelopes in his hand, I had to pick one and that's what we did for our date – it said we were going to Hampton Court.
"That was Alex all over, he was very romantic."
The couple had a whirlwind romance and Miss Hambley fell pregnant after four months with a son, Charlie, and had him in January 1995.
She said: "We got on well and Alex wanted to do the right thing so we stayed together.
"In 1997, me and my parents went on holiday to Spain with Alex and Charlie.
"One night, my parents took babysitting duties and Alex and I went out for drinks.
"Everyone was so friendly in the bar and kept buying me drinks.
"I was playing pool and having such a laugh.
"Suddenly, Alex dropped to one knee and gave a whole speech in front of the bar about how much he loved me.
"I said yes. I was young and had just had his baby.
"But I am not sure I loved him."
After being engaged for a year, Miss Hambley broke off the engagement.
She said: "I knew it wasn't right and I had to end it. I tried to make it work for Charlie."
Miss Hambley met fiancé number three at a nightclub in Kingston-upon-Thames aged 24.
She said: "I was on a night out with the girls when these two lads started chatting me up and I got both of their numbers.
"The next day I called the one I liked who had floppy hair and a cheeky grin.
"I got his answer phone, so I called his mate and we chatted over the phone for ages."
Miss Hambley spoke regularly with Mark Hoult, then 24, and met up with him two weeks later.
"He looked like a young Patrick Swayze," she said. "We moved pretty quickly and he moved in with me after six months.
"He worked for Virgin Airlines and I worked for British Airlines so we were in the same business.
"We'd get cheap travel so it wasn't uncommon for us to be spontaneous. We once went to Los Angeles just for a weekend."
Mr Hoult gave Miss Hambley her dream proposal.
"On my 25th birthday in 1999, we went to Barbados for four days," she recalled. "We were riding on horseback across the beach at sunset when Mark jumped off his horse and got down on one knee.
"He asked me to marry him with the most beautiful platinum and diamond ring.
"Of course I said yes straight away, he was the perfect man and I couldn't believe my luck."
The wedding was planned for a year later.
Miss Hambley had bought a strapless ivory gown and booked the venue.
But soon, the cracks started to show.
Miss Hambley said: "We stopped getting along as well.
"After being engaged for a year, I called it off."
In 2001, Miss Hambley got together with Mr Garcia.
She said: "We've known each other since we were 12. We went to different schools but he went out with one of my best mates.
"We've stayed in touch on and off over the years and eventually we fell for each other."
The couple decided they would get engaged at some point and in 2002 Miss Hambley had a ring specially made.
But he did not propose until years later while Miss Hambley was pregnant.
She said: "I wanted him to propose when he was ready so I had a ring specially made.
"I then gave it to him for safe keeping.
"I wanted it be a surprise too.
"Ray's been married before so I wanted to make sure he was ready."
Describing the proposal in a Chinese restaurant, she said: "We were eating chicken chow mein when he put the ring on his little finger.
"He waited to see when I would notice.
"When I spotted it, I couldn't stop grinning and slipped it straight on."
Miss Hambley gave birth to their daughter Alyssa in June 2004.
She says that maturity means she has made the right choice this time and they will get married once they have raised the money.
She said: "In hindsight, I didn't want to get married to the others. It was the buzz of being proposed to.
"We're planning a royal blue colour scheme with a wedding on the beach."