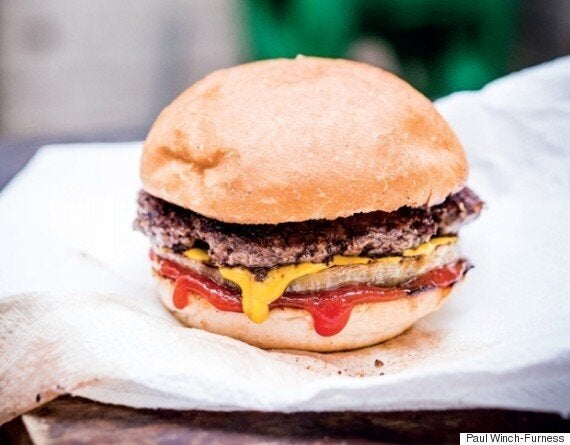 Barbeque and some real charcoal. Try and get hold of some British hardwood charcoal – you get a much better flavour than you do with briquettes.
160g freshly ground chuck steak, ideally something dry-aged
A generous pinch of salt and pepper
1 burger bun, use a white roll with a bit of texture. It needs to be able to stand up to the meat juices without disintegrating.
A half-inch-thick slice of a large white onion
2 slices of American-style cheese
A squirt of Heinz ketchup
A similarly sized squirt of French's mustard
2 or 3 slices of dill pickle (not the sweet ones)
Light your charcoal, preferably with a chimney starter rather than chemical fire starters. The coals will need to burn down to cooking temperature. Be patient: this will take a while. When the coals are coated with a white ash (they will glow red in the dark) and all the flames have died down, you're ready to cook.
Pull out a wad of ground chuck steak and form it into a ball with your hands.
Squash this down onto a sheet of greaseproof paper so that it forms a burger patty. It should be a bit bigger than the bun to allow for shrinkage during cooking.
Place the patty on an oiled and preheated barbecue grill and cover the top side with a healthy dose of salt and pepper. Put the thick slice of onion on the barbecue, too.
Meanwhile, cut the bun in half and toast the cut sides over the barbecue. This will only take a few seconds. When the bottom of the burger has formed a good brown crust, it will easily lift off the barbecue without sticking. Flip it and cook the other side. It won't take nearly as long. Flip the onion when it starts to brown.
Lay a couple of slices of 'cheese' over the burger while it's on the barbecue.
Squirt some Heinz ketchup and French's mustard on the bottom of the bun. Stick a couple of slices of dill pickle on there.
Lay the burger onto your bun base and stack the onion on top. Put the bun lid on top and serve immediately.
Drink: something with an umbrella.
On Thursday 21 May, some of London's finest and most exciting chefs will join together under one roof, at Street Feast in Dalston Yard, to cook up Michelin-starred quality dishes street-food style.
Guests will have a chance to win some 'money-can't-
buy' experiences from the restaurant world, including:
a fishing trip with Tom Parker-Bowles and Mitch Tonks followed by a long lunch at The Seahorse restaurant;
the River Café to cook dinner in your house;
MEATliquor 'Grub Crawl' for six;
and the chance to dine out with Sir Terry Wogan.
London foodie website Hot Dinners will be supporting the event with a week-long online auction to help raise crucial funds for malnourished children worldwide. Simply visit their site until midday on Thursday 21 May, to place your bid.
Related