One of the world's most prestigious sporting events, Royal Ascot is known as much for its sartorial style as its horse races... but oh, what to wear?
Wherever you are in the arena, aim to look your finest with this handy Ascot fashion guide: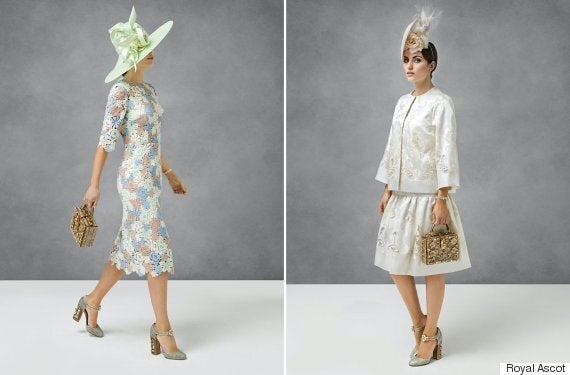 Left: Philip Treacy hat £1,300, dress, shoes, bag all Dolce & Gabanna (price on request). Right: Philip Treacy hat £1,232, jacket, dress, shoes, bag all Dolce & Gabanna (price on request)
-Dresses and skirts should be of modest length defined as falling just above the knee or longer.
- Dresses and tops should have straps of one inch or greater. No strapless, off the shoulder, halter necks or spaghetti straps.
- Jackets and pashminas may be worn but dresses and tops underneath should still comply with the Royal Enclosure dress code.
- Trouser suits are welcome. They should be of full length and of matching material and colour.
- Hats should be worn; however a headpiece which has a base of four inches (10cm) or more in diameter is acceptable as an alternative to a hat. Fascinators are not permitted.
- Midriffs must be covered.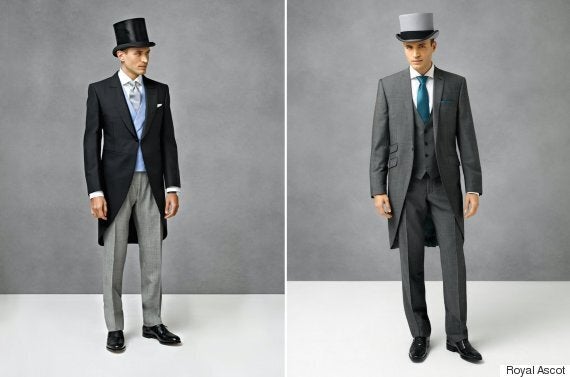 Left: coat £3,655, waistcoat £780, trouser £1,257, shirt £295 all Dunhill. Right: top hat £20, 3 piece suit & shirt £155, shoes £20 all from Moss Hire
- It is a requirement to wear either black or grey morning dress which must include a waistcoat and tie (no cravats), a black or grey top hat and black shoes.
- A gentleman may remove his top hat within a restaurant, a private box, a private club or that facility's terrace, balcony or garden. Hats may also be removed within any enclosed external seating area within the Royal Enclosure Garden.
- The customisation of top hats (with, for example, coloured ribbons or bands) is not permitted in the Royal Enclosure.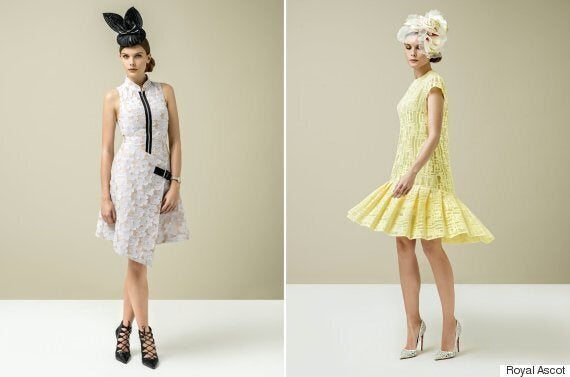 Left: Miche Dulce hat £300, Markus Lupfer dress £665, Ursula Mascaro shoes £319. Right: Piers Atkinson hat £320, Eudon Choi at Fenwicks dress £42, Christian Louboutin shoes £575
- A hat, headpiece or fascinator should be worn at all times.
- Strapless or sheer strap dresses and tops are not permitted.
- Trousers must be full length and worn with a top that adheres to the guidelines above.
- Midriffs must be covered and shorts are not permitted.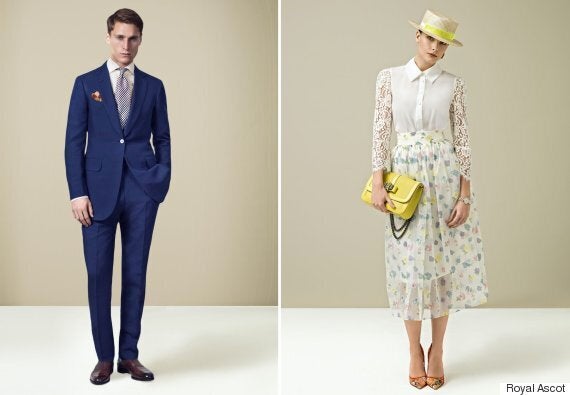 Left: suit £2,790. shirt £330, tie £125, pochette £60, all Dunhill. Right: Keely Hunter hat (price on request), Sophia Kah top £450, Vilshenko at Fenwicks skirt £506, Christian Louboutin bag £1,105, Kurt Geiger shoes £270
- Gentlemen are required to wear a suit with a shirt and tie.
Royal Ascot will be held from the 16th - 20th June 2015. Tickets start from £19 - £78. For further information and to book visit ascot.co.uk or call 0844 346 3000.
2014 Royal Ascot Hats