Fearne Cotton bid an emotional farewell to her Radio 1 listeners today (22 May), as she hosted her last ever show.
The DJ is leaving the station after 10 years on the air, following her announcement she is pregnant with her second child.
SEE ALSO:
After bursting into tears during her final moments on air, she said: "I'm so utterly blown away, you have no idea, it's just been the best morning and I'm going to miss everyone so much."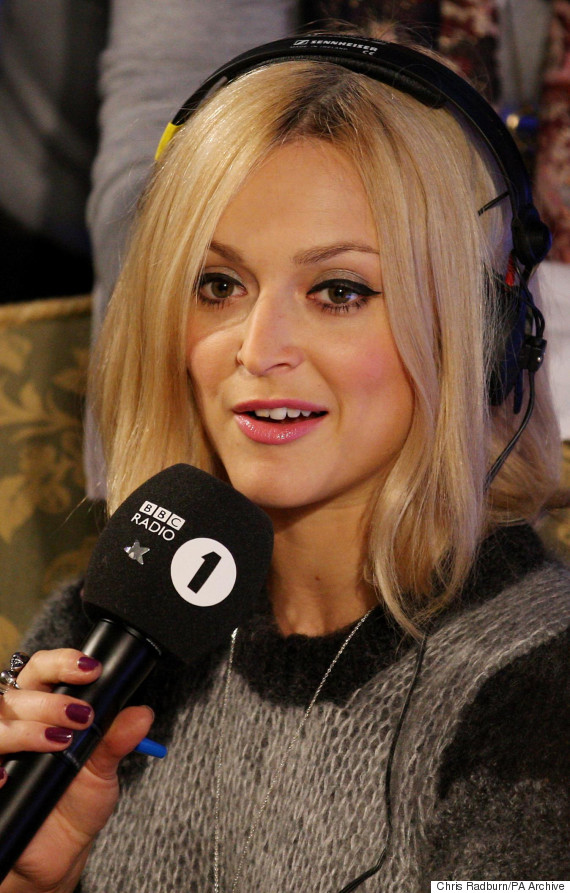 Fearne Cotton
She was joined by a host of celeb friends including 'Celebrity Juice' co-stars Holly Willoughby and Keith Lemon, Foo Fighters frontman Dave Ghrol, and her two-year-old son Rex, who helped her celebrate her final broadcast in style.
Coldplay's Chris Martin also honoured Fearne with her own song, entitled 'Gone But Not F. Cotton', which he played on the show.
The DJ was also inundated with well-wishes from a number of music acts and celebs on Twitter.
Listening to @Fearnecotton's final show on @BBCR1. Gonna miss you on my wireless FC! #FarewellFearne

D x

— antanddec (@antanddec) May 22, 2015
Goodbye to @Fearnecotton! The @BBCR1 Live Lounge won't be the same without you! #FarewellFearnehttps://t.co/aK8DoE0AmP

— Clean Bandit (@cleanbandit) May 22, 2015
#FarewellFearne Lovely moment on @BBCR1 right now. Tune in. Love you big sis @Fearnecotton

— REGYATES (@REGYATES) May 22, 2015
#FarewellFearne@Fearnecotton Gonna miss you on @BBCR1 LOVED my #LiveLounge sessions with you! Lots of love E xx pic.twitter.com/xnaD4DF7o3

— Ella Henderson (@EllaHenderson) May 22, 2015
Many happy times on festival coverage with this lovely person. Gonna miss you @Fearnecotton#FarewellFearne#NotDeadpic.twitter.com/iLaXBJ5Nti

— Greg James (@gregjames) May 22, 2015
Lots of love to @Fearnecotton and all the support she's given me and so many others on @BBCR1. You are the bestest evah

— Ed Sheeran (@edsheeran) May 22, 2015
To one of my most lovely, funny and genuine radio sistas - sending hugs, high 5s & here's to good times with your babbas @Fearnecotton xxx

— sara cox (@sarajcox) May 22, 2015
@Fearnecotton don't goooooooooooooo!!!!!!!!!!😢 big thanks and big love to you hun xxxxx

— Laura Mvula (@lauramvula) May 22, 2015
.@Fearnecotton Thank you so much for all your support over the years, you are the real deal. ramble on sister xx

— KasabianHQ (@KasabianHQ) May 22, 2015
Big up @Fearnecotton End of an amazing era amazing lady! Great memories in the live lounge with you! Good luck honey! Big Kiss X @BBCR1 ❤❤❤

— Alesha Dixon (@AleshaOfficial) May 22, 2015
Crying listening to @Fearnecotton on @BBCR1 ... So much has changed in the last 10 years but motherhood is the greatest adventure of all 🍼🎉💜

— Holly Willoughby (@hollywills) May 22, 2015
Best wishes for all you have ahead of you and thank you for the years of support and all the live lounges! #farewellfearne@Fearnecotton x

— Professor Green (@professorgreen) May 22, 2015
Thanks so much for all ur support over the years @Fearnecotton - very flattered Ben used my song for your final LL XXX ! #FarewellFearne

— Jessie Ware (@JessieWare) May 22, 2015
Good luck and congrats today to @Fearnecotton hold it together friend... X

— Dermot O'Leary (@radioleary) May 22, 2015
Good luck @Fearnecotton !I know you'll wake up with collywobbles about the day ahead but as I said, enjoy every second of being celebrated x

— Jo Whiley (@jowhiley) May 22, 2015
Ahead of her last show, Fearne posted a picture of herself in the studio on Instagram.
"Here we go... For the last time," she wrote.
Fearne announced back in February that she was leaving Radio 1 to focus on her growing family.
"After much time and careful thought I have decided to leave Radio 1 after ten amazing years," she said at the time.
"I have had the most incredible decade broadcasting on Radio 1, meeting wonderful people, helping break artists and watching live music from the world's best. However it is now time for a new chapter."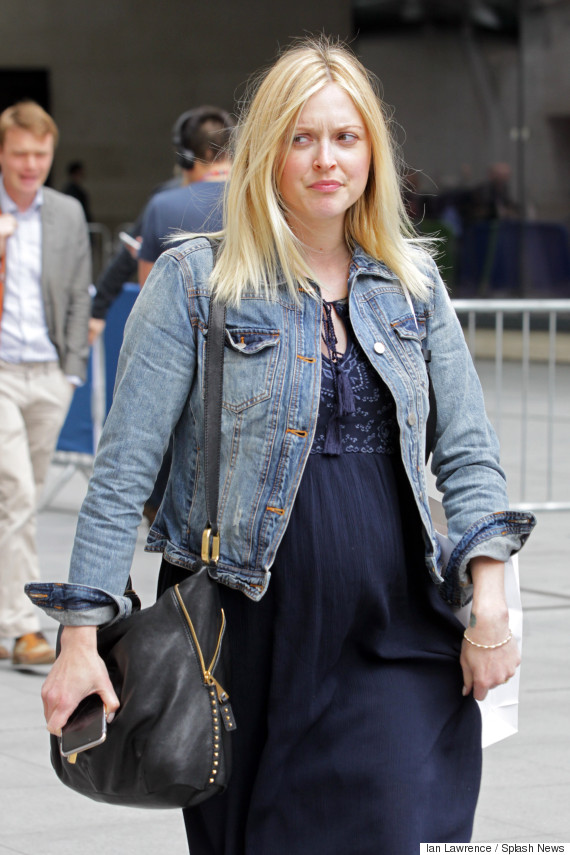 Fearne is currently pregnant with her second child
Fearne first started at the station in September 2005, hosting an early morning show with Reggie Yates, later taking over the Official Chart Show together.
Fearne then went solo, taking over Jo Wiley's weekday 10am - 12.45pm slot in September 2009, but was temporarily replaced by Sara Cox when she went on maternity leave to have her first child, Rex, in 2012.
Current Chart Show presenter Clara Amfo will be taking over Fearne's show from Monday, and she will also continue to host the Live Lounge.
LIKE US ON FACEBOOK | FOLLOW US ON TWITTER